Master of the Pit
OTBS Member
SMF Premier Member
1,804
1,807
Joined Mar 8, 2017
I have been craving good chorizo, and I have some extra venison from last year. Wanted to make a nice quick batch of burger and chorizo. So I ended up with about 20lbs of burger, and 20lbs of chorizo. My burger mix was simple. 10lbs venison, 7lbs ground chuck, and 3lbs Brisket fat trim. I did a double grind, starting w medium, and finishing w fine. I used my Cabelas #32, so this was a breeze. I took my time, over two days. Cleaning as I went so it was a very simple project. As I finished the burger and packaged it into 1.5lb bags, I would temper them in the freezer before vac sealing. Makes for a better seal without pulling moisture from the meat.
Once all equip from the burger was clean, I started on the chorizo. Simple again, 10lbs venison and 10lbs pork shoulder (fat included). I did the same grind as the burger (personal preference even though I know traditionally chorizo is a courser grind). I used Walton's chorizo blend, added 1/2 cup of flat iron smoke show peppers (super hot smoky blend of dried pepper) and 8oz of white vinegar per Walton's recommendation. I like spicy, but I was afraid of making it too hot for everyone else. This batch came out just right.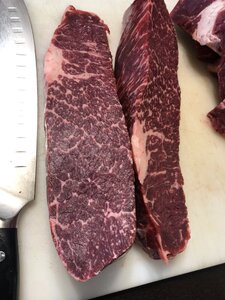 Here is a look at the venison and beef I was working with. I used hind quarter cuts, and this really pretty chuck roast. Along with the brisket fat ,I think I got a nice blend.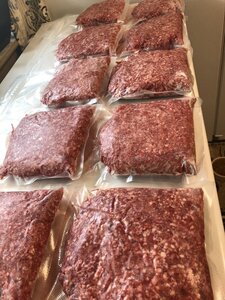 Burger all ready for the freezer. We package our burger in 1&1/2 lb packs. Seems to be perfect amount for what we do. The mrs. says this is the best batch of venison burger I've made thus far. Bet it's the chuck.
I worked alone so didn't get many chorizo pics but here are a few: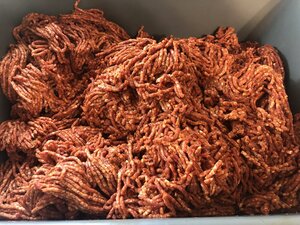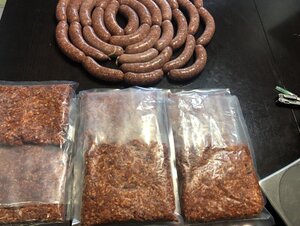 I linked up about 10lbs, and loose-packed another 10. Was going to loose pack it all, but I wanted to try out some new casings I bought from the natural casings company in Wisconsin. We shall see, but I like the way they handled on the stuffer.
The fry test last night got me excited. Wonderful flavor, but a bit too much heat (perfect for me), I hoped that they would mellow a little overnight. Well, this morning I decided to make breakfast burritos to really put the sausage to the test. I browned off a lb of the chorizo, then added red onion, green bell pepper and tomatoes and let that cook down for a few minutes.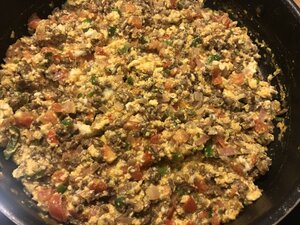 Then I added some eggs, and scrambled the whole thing up. As that was going on I heated a few mission low carb tortillas, added some sargento sharp cheddar, a pile of the scrambled egg mix and a little sour cream (ok maybe a little too much but I was still worried about the heat levels)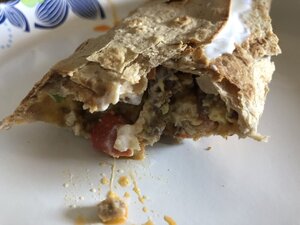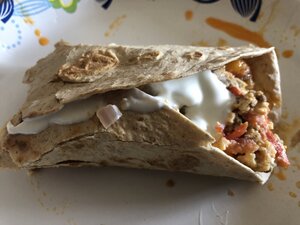 Well, with everything added to the party, the heat levels were just fine, maybe a even a tad mild. But boy am I happy with this sausage, it came out great! And we have a lot of the eggs to make more breakfast burritos for the week.
Thanks for looking!