Smoking Guru
Original poster
OTBS Member
SMF Premier Member
To Spin a Chicken or Not, I was going to . Mother Nature tricked me.
Well I wanted to spin a chicken on my Char Broiler , had every thing ready . Had the bird all brined with (

chopsaw
) Rich's brine.
Let it soak for 24 hours, than I rubbed it with ground Summer Savory and Paprika and ground and coarse Black Pepper.
Tied it up like a mad cowboy so I could mount it to the roto stick the next day, and off to the fridge for a over night rest.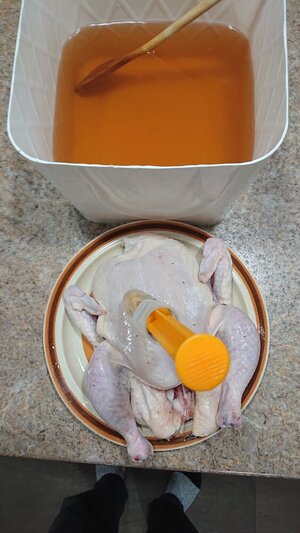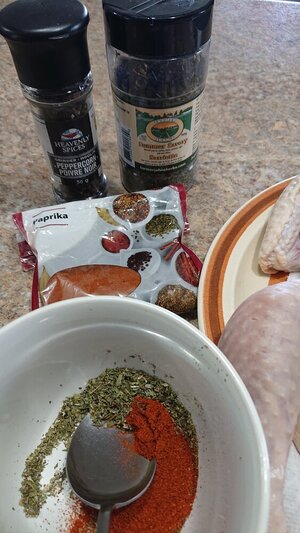 so today was not looking or sounding good for deck smoking on the grill. So made the decision and stuck the bird on her new bum mount
and off to the indoor smoker, Oh well what are you going to do, work with what you have
In the smoker for 2 1/2 hours at approx. 250 - 260 deg with cherry chunks
came out very nice and very juicy . I love brined chicken and @chopsaws is a great one .
Same as what I have used but this time with the lemon extract. Nice addition.
Pulled out at 167deg. IT let her rest on the counter as we got the rest of supper finished up.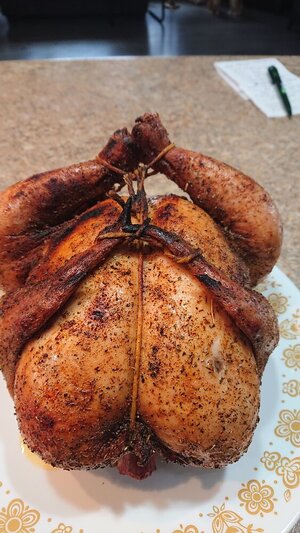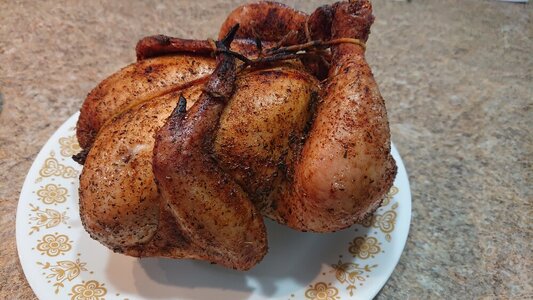 Chopped up into sections. look how moist that is
The flavour , just perfect and Mona even liked it as the cherry smoke was nice and mild for her.
Plated up and a little potato salad , I was very happy with the out come .
BUT I will return and spin a darn chicken an other day , lol
Thanks for getting to the end
I am off to grab some more Smoked Upside Down Pineapple Cake
David
Last edited: