Epic Pitmaster
OTBS Member
21,779
3,758
Joined Oct 4, 2012
Well a buddy called me frustrated with the quality and price of 80/20 he got the other day. I said why don't we grind some up. We set aside a few hours on Saturday and picked up 40 pounds of primal cut top round. It was on sale for $2.79/pound. Burger here right now is $5.99-8.99 per pound for 80/20, unless you buy the tube of goo. Its running $3.99/pound.
It was a cool morning 38°f in the garage. Set up a production line. We ground, bagged and vac packed It all up. Very little waste with top round. Just a pound of hard fat that had to be trimmed. The meat is pretty lean but it makes good burger. We did a double grind. All in all we both ended up with 18 pounds of ground round for just under $3.00/pound (vac bag cost factored in equipment and time negligible). Beer was more expensive per pound than the meat!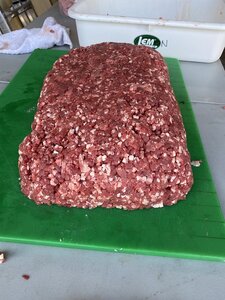 20 pound meatloaf! Ready for second grind.