So i have done some runs in my offset smoker. I have a Landmann Tennesse 300 AN50 modell. abit heavyer steal then the normal 300 modell.
anyway, sry for bad english writing.
As i have tried many thing, Charcoal casket.. etc easy to hold the temp didn't like the test. When i do only wood burn i like it much bether, but i have as many other problems keeping a steady temp. For me living in High North of Norway, weather is a damn stuggel. I manage to make some good ribs las weekend when it was good and warm outside. around 15 Celsius. "yeah summer in the north!" i cooked them at 275F, but to do that i had to check the grill every single 5 min and keep the wood burning very vell, to not get white smoke. Yeah the rib tasted so good it was a good deal. But i have seen other ppl on youtube that only add log every 30-45 min. I had to keep the vents Full open and the door. but if i didnt pay atetion it went up to 310+. when i then tried to close the vent i 1/4 it starts to produce white smoke.
For to day i am testing with no meat: full chimney of lump charcoal fully lit. added 3 sticks and burn them abit down before i close the lit, to get a good coal bed, preheated for 20 min before everything was burnt up. i close the lit and when i reached around 280 i started to close the vent and tried to tune it to 250, the exhauste was fully open . when i was looking into the firebook the lump where almost burnt away. so i mange to keep the temp for 10 min around 250. then it started to drop down to 220 in 15 min. and it started to produce white smoke. so i guess i mange to keep the steady temp aroudn 250 +- 10 degrees max 10 min and a clean smoke
The wood is birch wood. dryed under roof for 2 1/2 year. and preheated the next log in firebox. the bark was also removed. PS: the ribs where done with birch wood.
i have som pciture of the smoker. any help or tip would be nice.
I preheated the smoker around 30-40 min
I did not put any meat on.
the smoker: Is this a good smoke?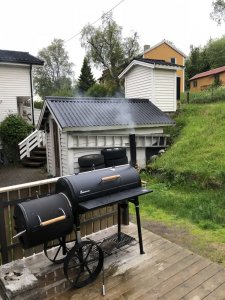 the fire
Catching fire
Closing vents:
Is this white smoke? its kinda of moist outside and i have a waterpan.
Any help or tips would be nice. Yes i know stick buring is not a fire up and forget, but it had been nice to just have 20 min.
My guess is that mabe my logs are to small? the once in the picture i did just add and they ahve burnt for 20 min. so mabe i earlyer did split the logs 2 much.
best regard Martin - norway
Last edited: