Epic Pitmaster
OTBS Member
SMF Premier Member
★ Lifetime Premier ★
10,719
7,197
Joined Dec 14, 2013
Had the thread on the brown n serve breakfast sausage experiment a week or so ago . I made some other things at the same time .
I used the Texas Hot link recipe from Marianski . It's a fresh sausage , but I wanted smoked . So I added some NFDM and the right amount of cure one . I also added 1/4 tsp of Carolina reaper powder I got from

tropics
to the 2 1/2 pound batch . Richie , that powder is awesome when used in the right amounts . Good heat and flavor . Don't take much . I made rings instead of links . Stuffed and held in the fridge overnight .
Next day I hung at room temp ( 65 ) 'til they warmed up some . Then into the MES 30 at 120 for a couple hours to dry , then started some smoke . I used oak as a " base " with cherry and mesquite mixed in . 12 " tube in the mailbox . I stopped doing the 10 degree bump on smoked sausage . Outside was getting tough because to much time in the smoker .
So I ran it at 130 'til I got the color I wanted . Then stepped to 145 for 15 minutes , then to 165 to get it cooked .
Worked great . Good snap from the casing but not tough . Texture was perfect as well as the heat . That's a good recipe . I did grill some fresh , and they're great too .
Couple pics ,
The rings on the tray are the Reaper sausage . The links are AC Leggs bratwurst . The single link is the change over from stuffing both .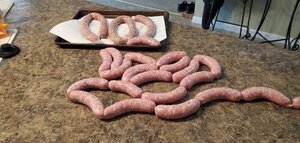 Close up of the rings ,
Out of the smoker , and fast cool down with ice and water .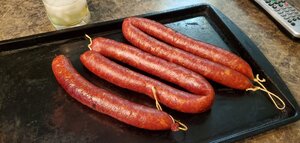 Couple cut shots .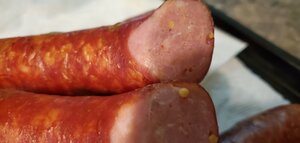 Really happy with this . Great recipe plus the added heat / flavor from the reaper powder .
Thanks for lookin.