Legendary Pitmaster
OTBS Member
SMF Premier Member
★ Lifetime Premier ★
8,135
4,521
Joined Dec 14, 2013
This is more about a different way to do a SV cook than it is about what I had . I've been looking for an easier way for some of this . If you're doing SV , you know how good it can be , but also the time it takes can catch you by surprise .
So I've been buying the whole eye rounds and cutting them into thirds . If it was for SV , I'd pre season and vac it for the freezer . I got to thinking , why not just cook it the day I buy it . Then freeze and re heat when I wanted to eat it . That way the long cook time is done and in a couple hours time on the re heat it's ready .
So I did a trial run with about a 3 lb . Hunk . It worked great .
So the day I bought it , trimmed it up and vac'd a 3 lb section . Into the SV at the standard 132 for 24 hours .
When it was done , I put it in an ice bath . Not trying to stop the cooking , but wanted to get it cooled down asap and into the freezer . NO on the counter time .
SV to a cooler with ice then straight to the freezer .
2 weeks later I was looking for something easy to make for supper . Remembered I had it in there . 2 hours before I wanted to eat , I started the Anova and put the frozen eye in . No pre heat . Came back later made the sides . Then sliced the meat that was waiting on me for a change .
This worked great for me . I'll be doing it again .
So it's about the " idea " , but here's a pics .
Pre cooked and pulled frozen from the freezer .
Fired up the SV and dropped the meat in .
Couple hours , and it's ready . I don't bother browning these .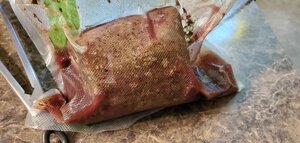 Basic plate for us . Nice and tender .
I'll still do some seasoned and un-cooked , but this works great for short notice .