618
413
Joined Mar 21, 2018
Took out a frozen Spießbraten, stuffed pork loin, I made last month and decided to try my new Carson Rodizio rotisserie before the Mrs. and I go primetime on a Memorial Day meal. It was a lot of fun in the sun (95F on the porch, 98+F in the sun!). Brought back a lot good memories open cooking over coals.
Weight of the loin was approx. 2 lbs., a full handful. Mrs. Wurtz made the sides: seasoned peas and carrots in chicken stock, mashed potatoes (with cream/butter) and a grilled onion. I didn't use the pork butt or bacon, onions were saute' not raw that as called for, I cooked the pork loin to an IT of 145F, which actually reached 158F range after 2 hours on the spit.
My coals were wood charcoal pieces not briquettes that I placed level across the opening below the spit and a slightly offset mound on the left that lasted about 2 hours. The loin was mounted on the 3-prong skewer inserted in the Carson Rodizio bottom middle rotator, about 1.5'/2' above the coals. And yes, the grill in the picture is a Meco Aussie travel grill that I bought about 4 years ago from Lowes for $45. It does the job - holds fire and grill without falling over. LOL!!
Outcome: See final picture. The meat was moist with leftovers. Only lost a tablespoon or so of onions out the ends. Need to work on my tying skills. I would score the fat that was on top so it could crisp a little. Next time I'll set the rotisserie on the grill edges and not use the grill grate, first time stability jitters. Raise the coals closer to the bottom of the rotisserie, using a steam pan insert. That way I can keep fresh coals for a longer fire, better temperature control of the spit, and crisp the fat layer. I forgot how fast open fire burns,
Thanks for listening to the dissertation.
John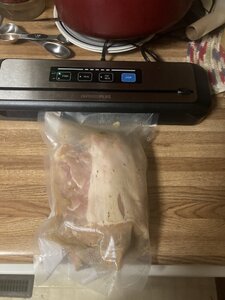 Size of loin prior to the deep freeze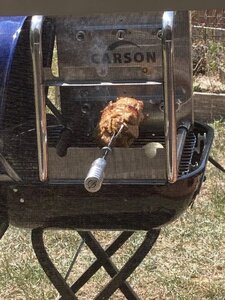 About 1 1/2hrs into the grill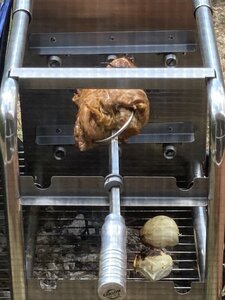 After IT was reached, placed to keep warm.
Finally, we can eat Spießbraten, peas and carrots in chicken stock,
mashed potatoes (with cream/butter), and grilled onion.