Master of the Pit
OTBS Member
SMF Premier Member
4,373
1,143
Joined Dec 13, 2017
So, I wound up tying my recent stick production to my cross bars for smoking.
I was wishing with every knot I had an easier way.
I went looking for some ready made hooks of some sort, I even found myself looking over Shower Curtain Hangers.
Finally, I came back to Earth and got out one of my balls of Butcher's twine and started making Loops. The idea is to use them next time to hang whatever I make to my pipe cross bars. (So far, two have more than sufficed.)
So I tied up 150 loops today while sitting around.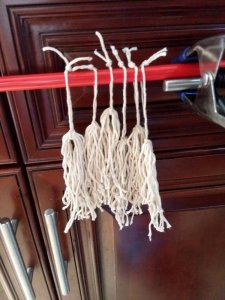 The strings are ~ 7-8" long. Doubled back and tied with a simple overhand knot. I hung the loops on a plastic tube and bundled in tens. Then bagged up the bundles.
In use, I plan to simply encircle the casing at my fold point, put the knot tails through the eye, pull up taught, and slip the knot end onto my bar.
Saving me from stopping and tying each individually while the Sausage Rope waits.
Idle hands and a ball of string. Yeah, I do the mundane well.
Other ideas Welcome.