710
112
Joined Jan 12, 2013
Sorry don't have very many pictures, but I did want to share some details as these ribs were my first ones in the sous vide and soo good!
I really do like my beef ribs. I call them brisket on a Bone!
Started off with about a 4lb 4 bone roast. Trimmed fat well, and rub with EVO, Chicago steak rub, plus dehydrated garlic, dried thyme. Into a zip lock with a teaspoon of roasted beef base. (GFS, bouillon) for a 55 hour bath @ 144-145F. Remove, dry well and then seared it over the chimney starter 1/2 full lump charcoal and a few hickory chunks, blazing hot!. Ribs were done perfectly, slight pull off the bone, tender, tender ..like brisket! Next one will be 60 hour @ 142-143.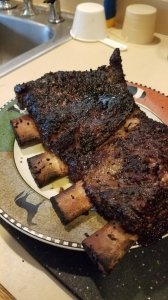 Love those Dino Bones....Yaba Daba Do!!
RG