I haven't disappeared, I just messed up my back picking up our very cute granddaughter. I couldn't move propane tanks around and it got too darned hot anyway. It is cooler now and company is coming to dinner tonight! It is so nice to cook again!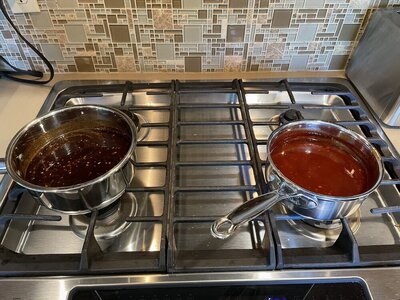 The first step is bourbon BBQ sauce and jerky marinade. I made this earlier in the week to let the sauce meld and give the jerky a couple of days to marinate. I love BBQ sauce!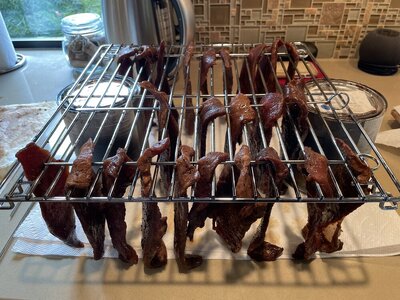 This is about four pounds of eye of the round. We leave in a week for a month long sailing trip in the Puget Sound so I wanted some snacks while at the helm.
It came out great! Adding one more day in the marinade made the difference. It has just the right amount ok kick. I think I have this recipe dialed in.
The ribs are rubbed up and on their way to the smoker. These are baby backs, but they have enough meat to be St. Louis racks. Love our meat market!
Two racks at 250 and a pan full of bourbon baked beans to catch the drippings. I smoked a ham a week ago and cubed some up for the beans.
Now the best part; a glass of Woodford's, some jerky, and putting my feet up to rest a bit. My Frankenstein smoker is putzing along and I have no worries for a bit!