Smoking Fanatic
Original poster
Well guys its Sunday and I want something different. So we will be working a simple yet savory cook today. Now many of you know I have a huge cast iron collection, and this thread will showcase one that only gets used occasionally because of its size.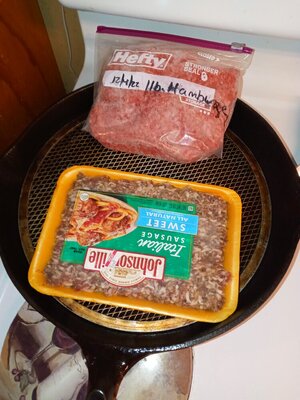 I have laid out my beef and sausage, but I wanted to give you an idea of the size of this piece of Iron. I have inserted a 14 inch screen in the pan which will suspend the meatballs about 1/2 inch from bottom of the pan.
So keep a watch on this thread today and see how things progress.