Epic Pitmaster
OTBS Member
SMF Premier Member
11,025
2,924
Joined Apr 4, 2013
It is HOT! But butts were only .79/lb., I couldn't help myself. Day before yesterday, I deboned, chopped up a cryo-pac of buts, 25lbs.
I made andouille, cajun hot smoked sausage and breakfast links. I was actually out of breakfast links.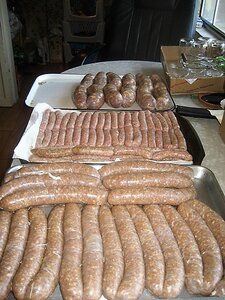 I let them bloom for two days in the reefer. Hung 'em in the smoker, door cracked and high heat to dewater the sausage and andouille so it would take some smoke. I actually remembered then that it was hot outside. I can handle it..... LOL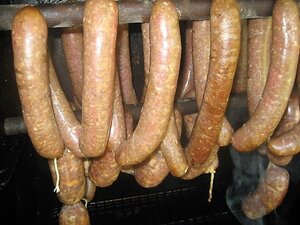 They are taking on some color I also note that the sausage temp is going crazy hot.... I don't want it to render and loss it. I turned the actual smoker off and it was still mega too hot.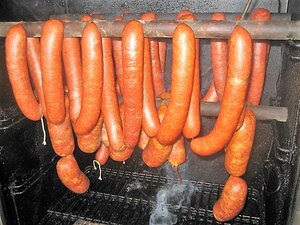 I left it as long as possible, I am guessing the smoker was way in excess of 200 degrees turned off.
I didn't lose it to rendering but I didn't miss by much.
I was going to make a "Steak & Ale" Cheese steak sandwich for supper, but guessing I'll shift gears and make that a smoked hot sausage poboy instead. LOL
There is no holesin the sausage from rendering or from incomplete grinding. Smoked with pecan & Apple. I smell good, I should go out, I know all the babes would follow me home! I'll need to read up though Not sure I remember why I'd want 'em too anymore.
This was the easiest sausage adventure ever. Everything was just like clock work. Took only mins. to separate them and flush the casings, no holes, and they loaded on the tube like a dream. I would until the smoke I would have given this adventure an 11 out of 10!! I have smoked in the heat before, but today was just amazing the difference it made. I was lucky to not have lost it.
Well that's it, Its in the reefer now and tomorrow I'll bag it and tag it cause I am afraid to try another smoke at this time. I mean its still better than anything store bought, just not my usual double smoke that drives the women crazy.
Stay safe out there!!
PS :: Sorry but as usually I can't share recipes on this, they are not mine. BUT I can say the andouille is very very similar to the recipe in the NOLA section of the paper. (That would be "NOLA Andouille recipe".)