Smoking Fanatic
Original poster
So I recently purchased a PK 100 electric smoker, specifically to use for ultra low temp smokes on sausage, jerky, snack sticks, and bacon. The smoker is built like a tank, it's 100% stainless steel inside and out, and it's fully insulated. It's also very consistent with temp swings of only +/- 3-4 degrees, and from the bottom rack to the top rack it runs within one degree. I really couldn't be happier with it... except for one thing, and I knew this going in to it, but also had an idea I thought would adequately address the one dislike.
The one thing I dislike, is the way it generates smoke. Basically, it is dependent on the heat generated from the burner, as you sit a stainless steal bowl filled with dampened saw dust right on top of the burner. This was a concern because most often, I will be smoking in the 140-150 degree range for the items noted above, which is obviously a very low temp. While it isn't a problem now, I'm concerned it will be in the summer as it can and does easily get up to 110 degrees in the Sacramento area where I am, so the burner won't have to work very hard to raise the temp in the chamber by 30-40 degrees, especially since it's fully insulated and retains heat very well. I'm just not sure if it will generate much if any smoke under those conditions.
I had a feeling the solution would be to separate the smoke generation from the heat generation by using an A-Maze-N pellet tray. I tried this out when I was testing the unit a couple of weeks ago, and it worked great, but the perfectionist in me wanted to take it a step further to make it even better.
So... I ordered a 12" x 12" piece of 7 guage carbon steel from onlinemetals.com, and built a small defuser that sits right over the burner using some 1 1/4" long machine screws as legs, and the A-Maze-N pellet tray sits right on top of it. The thought is that the defuser will catch any ash from the pellet tray and keep it from getting on the burner, and it will allow the tray to sit dead center in the cabinet right in front of the damper in the front door, giving plenty of access to oxygen to keep the tray going. I say that because I originally bought the A-Maze-N tray to use in a MES 30 about a decade ago (MES is long since dead and gone), and I always had problems keeping it lit due to insufficient oxygen no matter what I tried. This on the other hand should work perfectly.
About to test it right now with a batch of jerky and will report back.
And now for some pics:
The smoker itself:
This is the burner inside of the unit: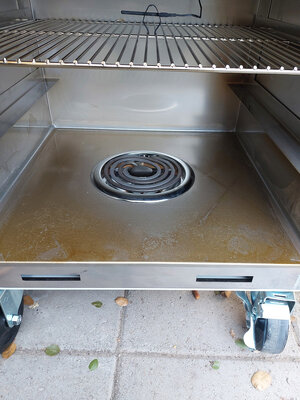 And the sawdust bowl it was designed to use to generate smoke:
Here is the defuser, The 1 1/4" screws were the perfect size to lift it up just enough over the burner with plenty of room above it:
A top view with the A-Maze-N tray sitting on top: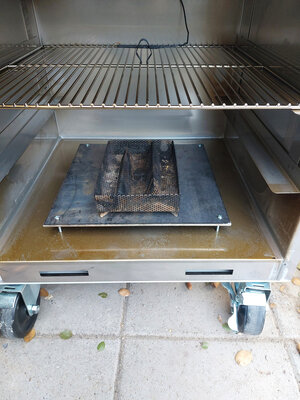 A View through the damper showing the tray right there:
And a close up through the damper: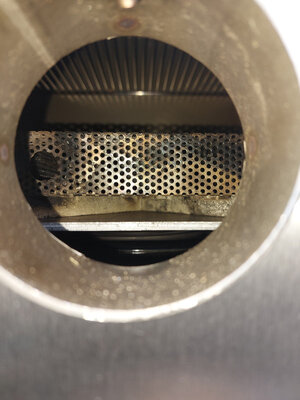 Last edited: