Master of the Pit
Original poster
★ Lifetime Premier ★
This is a fall to spring favorite around the house.
Hard to give a recipe as we cook by feel.
Garden red potatoes washed and diced to fill the Dutch oven about 2/3 and boil until mostly cooked through. We don't peel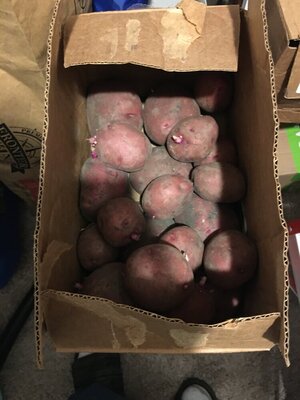 Drain water and move potatoes to a separate vessel.
Now for the rest of the ingredients
Diced onion and butter in Dutch oven and sauté to clear, soft, and tender.
Add flour to make a roux. I guess 1/2 cup flour.
Previously diced and cooked out bacon (I prefer thicker ends and pieces) but not crisp. We did about 2# bacon.
Add potatoes, bacon and stock to pot with sautéed onions in roux. Bring to simmer. Add pepper (cracked white is best, mixed is good)
There is more than enough salt in the bacon for us, but add more if desired.
If the thickness is good add about 1/2 to 3/4 pint of the heavy cream.
Simmer for a few minutes to meld the flavors and textures.
Take photo of the leftovers because you were too hungry to get one of the full Dutch oven.
Thanks for looking