Master of the Pit
Original poster
I decided to give this a try using

Bearcarver
method for dried beef. Trimmed up two eye of round roasts and cut into square strips about 1/2" on a side. I mixed up tenderquick and brown sugar per Bearcarvers recipe. I made two different flavors, one I used fresh ground pepper, white pepper and a touch of cayanne. The other I used worcestershire sauce and
Tatonka
dust (Owens BBQ). I put each in a ziplock bag and into the beer fridge for a rest. I turned the bags every other day.
It cured for 10 days. I removed and soaked the beef for about an hour, changing the water a few times. I then dried the beef and reapplied black, white and cayenne pepper. I put some
Tatonka
dust on that batch. This spice dark, almost black, contains worcestershire powder.
Put it in my little electric for a dry and cook. I really like my PID controlled electric for drying jerky and sausage. 1 hour @ 120F, 1 hour @ 130F apply smoke, 1 hour @ 145F, 1 hour @ 160F and last hour at 170F. Beef IT of 152-155F. I used a mix of alder, cherry in my smoke tray.
It turned out very good, like to peppered one better. It is a little tough but that is due to the way it was sliced with the grain on a eye of round. Would like to try this with top round or sirloin tip and slice it 3/4 wide. If you get a chance try some from
Jackson Brothers
, its a bit pricey but so good. in the meanwhile I'll watch for those to go on managers special.
RG
https://www.smokingmeatforums.com/t...d-dried-beef-recipe-tips.301294/#post-2131745
Dried Beef (cured & smoked) I got a Hot Tip about Eye Rounds being on sale for $1.99. That's the first time I saw it that cheap since more than 4 years ago!!! The first time I used Eye Rounds for Dried Beef, I injected cure because they were over 3" thick: Link...

www.smokingmeatforums.com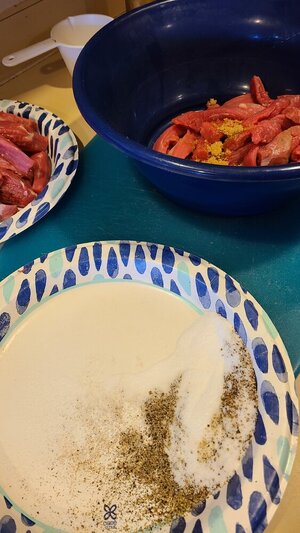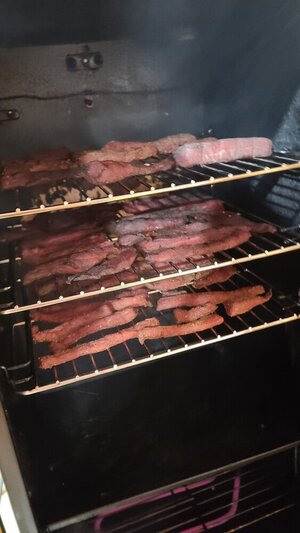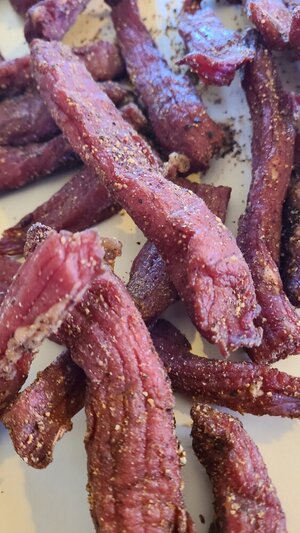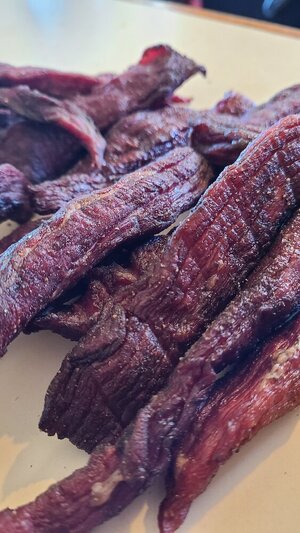 Last edited: