Smoking Fanatic
OTBS Member
675
578
Joined Sep 20, 2018
​
I decided to jump on the ham bandwagon after seeing everyone's great posts. And when is ham a bad choice?! Ham is HIGH on the wife's list so I had to tread lightly when deviating from the norm with it, but I got the blessing to play around a bit. I wanted a Bourbon Glaze and she is not keen on bourbon so we (she) decided that Peach Crown may be a good place to start... I conceded and looked at a few glaze recipes and pieced some together (below). I must say it was good. Little too sweet but replacing the Peach Crown with normal whiskey/bourbon would be killer! On to the details...
Cook Details:
Date: 12/26/19
Meat: Cure 81 Ham
Glaze: Peach Whiskey Maple Glaze
Cooker: Pitts & Spitts Maverick 1250
Pellets: B&B Post Oak
Temp: from 250°F
Spritz or Spray: Glazed in final 30 mins
Cook Time: 4 Hours ish
Sides: Mashed Spuds with Scratch Gravy and Green Beans
Next Day: Leftover Omelette
Glaze Recipe:
1/2 Cup Peach Crown (or substitute own)
1/2 Cup Maple Syrup
1/3 Cup Brown Sugar
1/4 Ketchup
4 Teaspoons Rub (I ran through grinder to powder-ize)
2 Teaspoons ACV
Mix and heat to a boil then simmer til desired consistency (coats a spoon). Made about 1 cup after reduced
Pictures (comments on top):
Glaze Ingredients
Bubbly Goodness
Coats a spoon (you can see reduction amount)
Opening the ham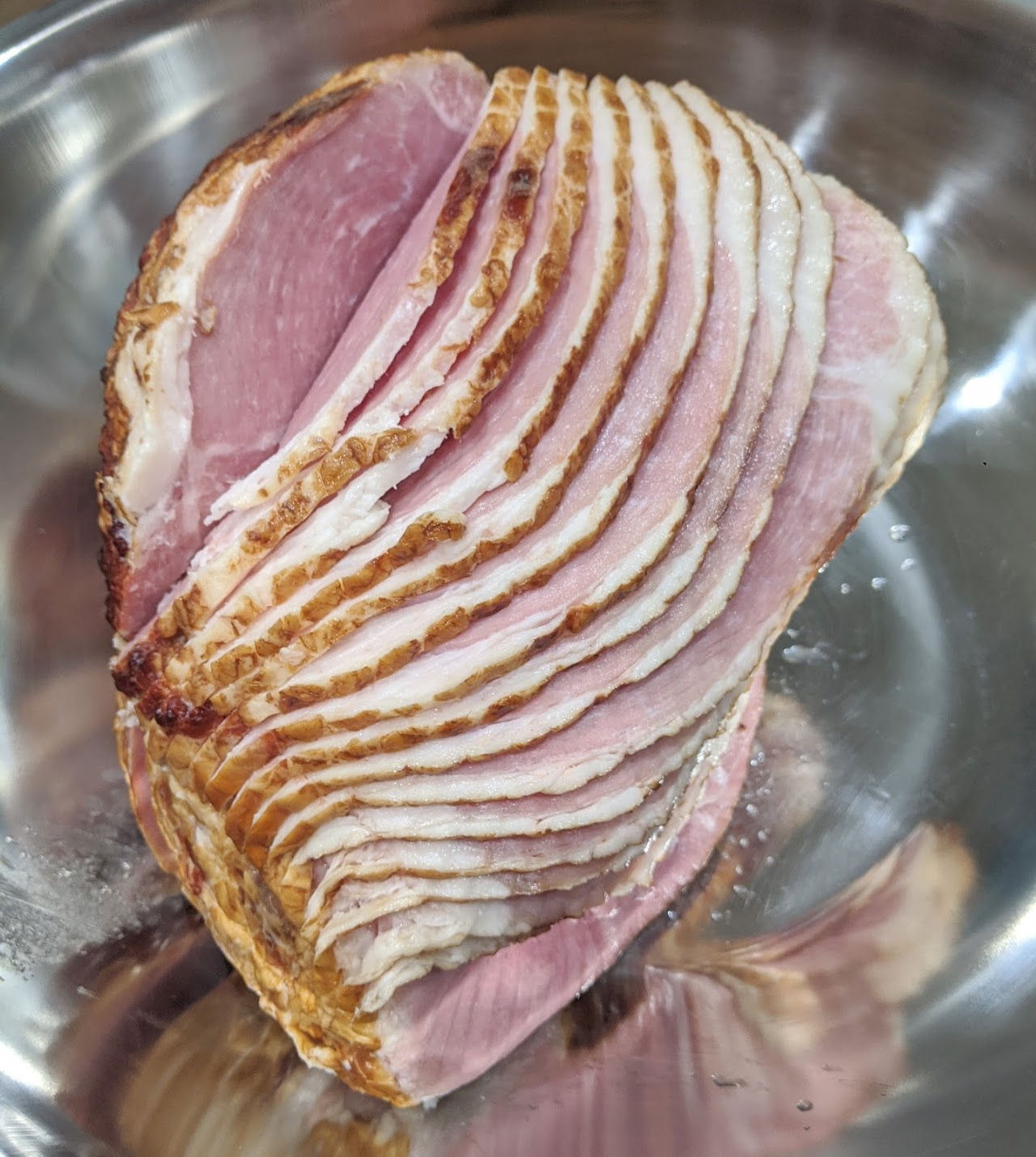 Glaze all the layers, both sides
On the pit
Hour in and time to probe. Color is looking good!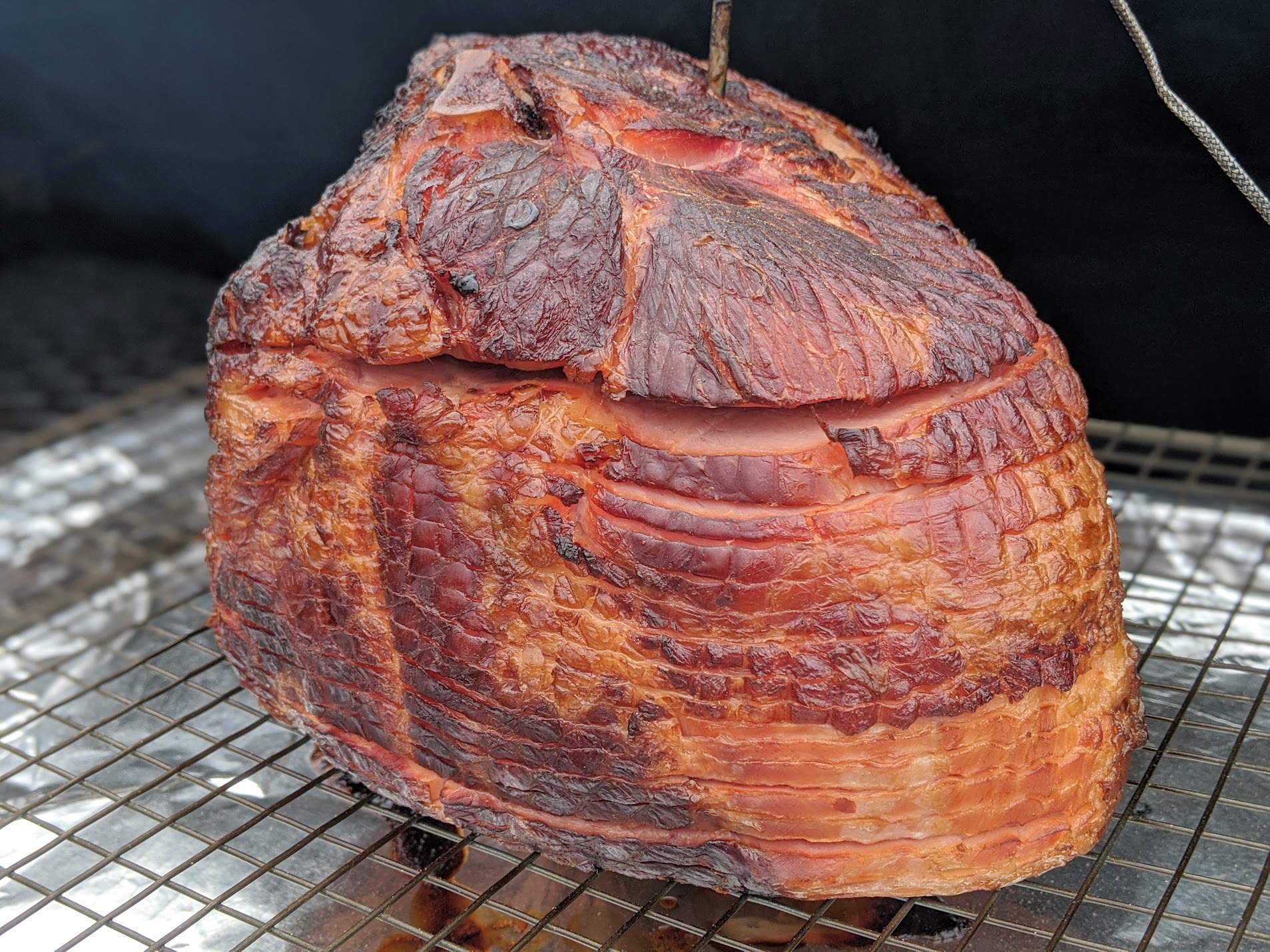 Done (145° IT) and a fresh final glazing!
Dibs on the end slice!
Time to make gravy. I had turkey stock I made over Thanksgiving that is perfect for this
4 TBSP Butter
4 TBSP Flour and some pepper
4 Cups of Stock and heat til thickened
Served with Mashed Potatoes, Green Beans and I got the end piece of smokey glazey goodness!
The next day I took some leftover Red Bell Pepper, Onion, Jalapeno, and Ham
Sauteed in butter and S&P
Added Eggs and Cheese
and an amazing omelette to start the day
Final Thoughts:
The Glaze was a touch on the sweet side due to the selection but once it was was homogeneous, it was close to really good. I will change the Peach Crown to Jack or something next time. The prep was easy and straight forward. I was gonna use apple wood but decided with the sweet glaze to stick with Post Oak and I think it was the right choice. Paired really well. The scratch gravy was excellent and real easy to assemble and worth the extra little effort. Fresh green beans can't be beat and the plate needed some sort of green on there... so I added butter to make sure the health factor wasn't too high
. I ate more than my fair share that night and then some! But most importantly of all, the wife liked it too! She was hesitant about the glaze and extra smoke but it turned out as a flavor adder and not overpowering. Win!
As for the omelette the next day, I thought I was making it for two so I used 5 eggs. I may or may not have scarfed it down by myself as my wife wasn't hungry yet
. Was a slow morning after that.
All in all it was a great meal(s) and I learned a couple new things to tweak for next time. Cooking is an ever evolving process and I have a blast continuing to learn. Ultimately, the end result of all this practice is some good eats and a trip to stretchy-pants-ville!
TL;DR
Cheers Y'all!