Master of the Pit
OTBS Member
SMF Premier Member
4,372
1,145
Joined Dec 13, 2017
Somewhere there was a post where a guy had these squeaky clean racks in his smoker.
They looked brand new in a well educated MES, and I asked if they were new, or how'd he get them so shiny clean?
Well Saturday I was going to run my mats in the dishwasher to clean them. Since I was several marbles short of a full bag, I pulled the racks and put everything in for the load.
I must say, I was very impressed with how
sparkly clean
the racks, mats, reservoir, and even my little catch pan* came out of the dishwasher!
I don't know what they put in Cascade, but it knocks the snot out of Creosote build up. Almost every speck came off.
The only downside is a mild smoker smell inside the dishwasher now. So far the Admiral hasn't noticed it. Or if she did, my selective hearing did not register the complaint. :p
But whoever you was, running the racks, mats, and dilly wacks through the dishwasher sure cleaned them up.
Thank You Again
for the idea! ;):D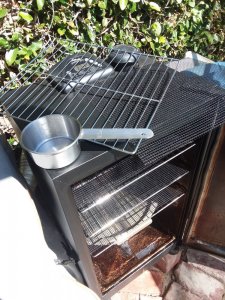 * - Catch pan is
a little SS BBQ Sauce pan
I put in the upper back corner to catch anything that drips from my stack. Condensation occasionally drips from the stack, and the little pan catches it.