Legendary Pitmaster
OTBS Member
SMF Premier Member
★ Lifetime Premier ★
8,527
4,798
Joined Dec 14, 2013
Well I went out to get some eggs , they were out . So I came home with an 8 lb. pork butt and made some sausage .
My son gave me a couple new mixes from The Sausage maker . One was Italian Herb and cheese . I do all my sausage over a couple days . Just easier that way . So I cut and ground after getting home . Cleaned up everything , then mixed in the seasoning and cheese . Back in the fridge for an over night . I put plastic wrap down tight on the meat paste . I store the casing wet , so they are always ready to go . Nice and tender .
I got up the next morning early to get the stuffing done . This stuff smells fantastic . My kids walked out and said " smells like the deli in here " Lol .
Here's the mix ,
Uses 2 cups cubed motz , and 2/3 cup fresh grated Romano .I had 8 lbs. so I cut that back a bit .
I started to cube the cheese , when I remembered something .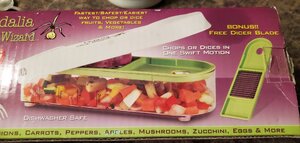 I've had that thing on it's way to the trash more than once . Always brought it back in the house .
It really worked good for this .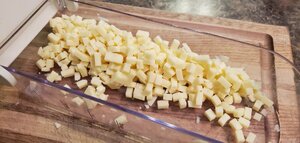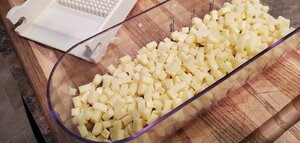 Perfect size for this . It has a 1/2 inch die also .
Before and after mixing . Had to split to mix , then mixed that together .
Looks like a fatty mix , but there's a lot of cheese in there .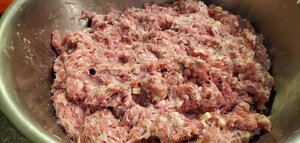 I've put a lot of sausage thru the 5 lb. Lem Still going , but it's getting tired . Needs some new bushings .
Run the sausage to the end of the tube .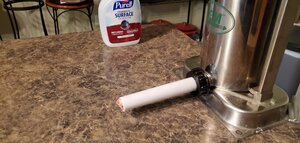 Casings slides right on .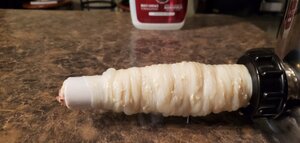 I tend to stuff these pretty loose . Then I link towards the open end .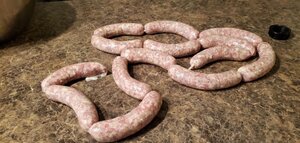 I use an oven jerky rack to dry the casings after stuffing . Ended up with 6 1/2 lbs. of links
and 2 bags at 1 1/4 lbs. each . 24 links about 8 " long .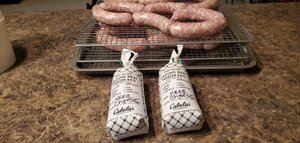 I put them in cheap bags and freeze over night , then vac the next day .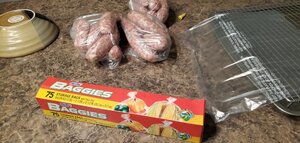 OK ,, someone decided they wanted Homemade Ravioli and Italian herb sausage
for New Years eve supper .
I used some ricotta cheese for the filling . Semolina flour for the pasta .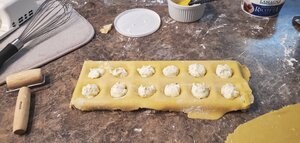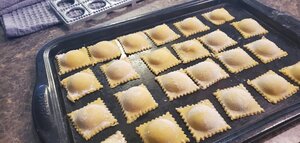 I just get some color on the sausage , then pour a good store bought sauce on them .
Put a lid on , lower the heat .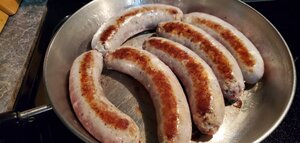 I used store bought on the sausage , but my Son makes a fantastic homemade sauce .
That's what we saved for the rav's .
Boiled them off , and mixed in some sauce so they didn't stick together .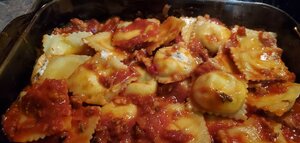 Plated up with some take and bake bread from the store .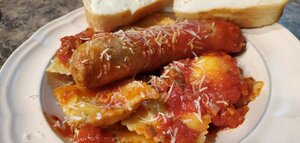 This is some of the best Italian we've had . Everything about it is great .
Taste , smell and texture all spot on . This mix will have to take place of the sweet ( fennel ) sausage I
normally make .
Thanks for lookin .