I have a newer generation MES 30 and I recently bought a
AMNPS
. I removed the chip loading tube completely and had the
AMNPS
tray in the bottom alumnium foil pan as show in this picture: I wanted to put it in an alumnium pan to catch any ash. The top tray is there to catch any dripping from the food to prevent a grease file on the
AMNPS
.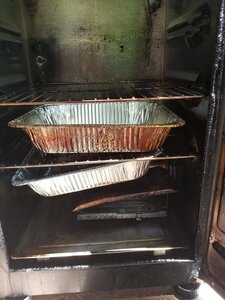 After the thing stopped smoking, the leftover pellets in the
AMNPS
looked like this: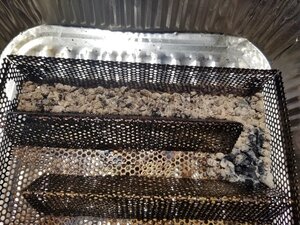 Is this what they should look like after a "clean" burn? If not, what should I change about my setup?
Additionally, I noticed that this setup raised the ambient temperature in the MES by about 80F. Ambient temperature outside was about 80F and the temperature inside my MES (as measured by a thermometer) was about 160F by the time the pellets were done smoking. Is this normal or was it burning too much? I don't care about cold smoking at the moment, I just want to know if a ~80F increase in ambient temp is normal.