Master of the Pit
OTBS Member
SMF Premier Member
4,373
1,143
Joined Dec 13, 2017
If there was an "Insane in the Kitchen" area, that might fit.
This mess has Sous Vide Pork Loin, but that doesn't fit.
It has some fried up Buckboard Bacon, but that doesn't fit.
It has Black Beans, but that isn't all.
And Chili Powder, Chipotle Powder, Cracked black peppercorn, and even a big squeeze of Sage Honey.
Sonny's Secret Seasoning, Granulated Garlic.
And a can of dice tomatoes...
Brings to mind Julie Andrews singing, These are a few of my Favorite Things.
I browned the Pork Loin I Sous Vide yesterday, in the bottom of my Dutch Oven.
I fried up some bacon in the lunch quesadilla pan, nothing is sacred around me man.
A run away train wreck is bubbling away.
But the end result is tasty, even I must say.
Why I never compete is quite obvious,
Wouldn't you agree?
I eat my mistakes, but never ate my young,
Just another tasty treat from Sonny in the Kitchen
Double Pig Chili with a Chipotle Kick

~1 pound Sous Vide Pork loin
6-8 ounces of Buckboard Bacon fried to your liking
3 - 15 ounce cans of Black Beans (Juice and all)
1 - 14.5 ounce can of Diced Tomatoes (I just dumped it in)
1 tsp Chili Powder
1 tsp Chipotle Chili Powder
1 tsp Cracked Black Peppercorn
1 tsp Granulated Garlic
1 good squeeze of Honey (I like Sage Honey, Maybe 2 ounces?)
1 tsp of your favorite rub(s)
Cut up the Sous Vide Pork Loin into cubes ~1/2" to 3/4" (Give the dog any skimpy scrapy odds and ends.)
Brown the cubes in the Dutch oven (or pot) on your range, to your liking. Add the chili powders. Stir around good to get the powders on the cubes. I use a dribble of Peanut Oil to lube things up.
Add your Black Beans and stir around. The first can is going to sizzle, the second will bubble, and the 3rd will settle things down. Now we're cookin!
I stir mine up with a wooden spoon to respect my cast iron. You can use whatever is your favorite.
As the Beans and Pork Loin are coming to a boil I added the other ingredients as things came to mind.
I fried up the bacon, cut into diagonal slices until some was kinda crispy, and the others were still soft but cooked. In to the pot, grease and all. (Shoulder Bacon is meaty, and not much grease is made. But it's tasty!)
The last thing I added was the can of diced tomatoes. It was one of those "Oh Yeah, tomatoes!" Moments. So I got out a can from the box high on the top shelf that I had gotten chastised for buying.
Stir, stir, stir, and stir. But be gentle, Please.
Mine is simmering. Only the occasional bubble from the bottom. The flavors were kind of stark at first, but as time did it's thing, everything began mixing and blending, and my smile got bigger and bigger.
Taste good to me!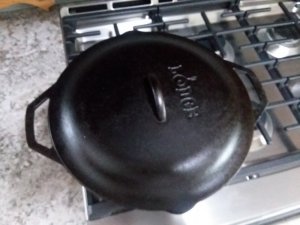 Yummie to a Rainy Day Tummy!