Greetings all, hope everyone is well, and getting ready for the Spring weather. Starting to use the Blackstone a little more, and since we are on serious diets, this is a reasonably healthy meal that we both not only like, it gets us to eat a lot of veggies we usually wouldn't eat otherwise.
Not a lot of pictures though, things happened very fast, I thought I'd have more time, but not, lol.
Here's all the veggies first on the Blackstone, Broccoli, Zucchini, Mushrooms, Onions, Carrots, etc. I used a Hibachi cooking sauce recipe from the interwebs, very simple, 4 ingredients.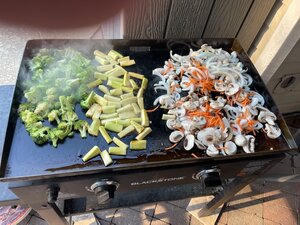 Here they are mixed and moved over to make room for the Shrimp.
This was where I didn't get any pics of the Shrimp cooking. Used large 21-25 /lb about 2 lbs. Had a lot of leftovers for lunch today.
Finished ready to eat both the veggies and Shrimp. We finished all of the veggies and about half of the Shrimp.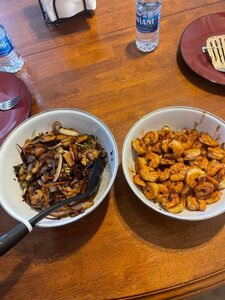 It was very good, with a great amount of flavor, I marinated the Shrimp for 3 hours in the cooking sauce before cooking.
Next time doing this with Filet Mignon, that will marinate longer since Beef doesn't take on the flavor as fast as Shrimp.
Thanks for stopping by, and continue to stay safe.