Meat Mopper
SMF Premier Member
299
194
Joined Jan 1, 2016
A big thank you to Snorkelinggirl for posting such detailed write up way back when even i could follow. And i finely did. Got all my ingredients together...
For my first time followed the instructions pretty close. All the players ready for the pool. Turn on the heat on low and bring up to gentle simmer.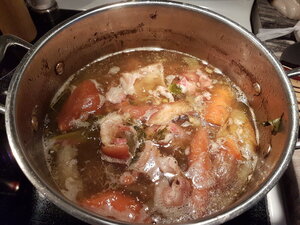 Must have taken 5 hrs. or more to get it to my liking. Picked out the meat,strain and reduce the broth,mixed and let set overnight. Had some somefor lunch and it outstanding!
Slice of rye bread, onions in white vinegar and adult beverage...
Give it a go. you will not be disapointed.