Hi All,
I've been checking out the site for the last few months as my obsession for smoking meat has grown and grown. I bought an Oklahoma Joe's Highland during the early days of the quarantine and then started modifying it like crazy (gasket on cook chamber, baffle plate, water pan, fire box, lowered smoke stack (laundry exhaust), locking cook chamber clamps and a Tel Tru thermometer at the grill level on the smoke stack side). This little guy has become a mean cooking machine. And to go even better with this new obsession and less work than usual, I've just gone back to keto so the party's on!
I'm originally from Houston but based in Brooklyn. If anybody has resources out here they would suggest for wood, meat, etc, I'd be happy to hear them. I've found one source for oak called the Woodman in the Bronx. Thinking of reaching out to some of the apple orchards upstate to see about getting some apple wood.
I just did my first full packer brisket and thought I'd share. It might not be pro level, but I enjoyed it thoroughly and the neighborhood cats were even trying to get some!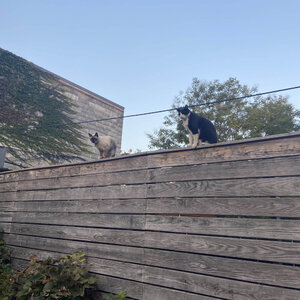 I read various articles about trimming the brisket but am not sure I did the greatest job. I've since bought a boning knife and a slicer for after the cook. The confusing part for me was cutting off the deckle. I wasn't sure where to stop where I sort of ended up cutting a wedge out between the flat and point. Is that what I'm going for? Here she is: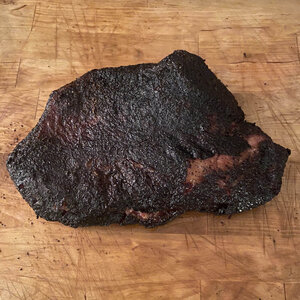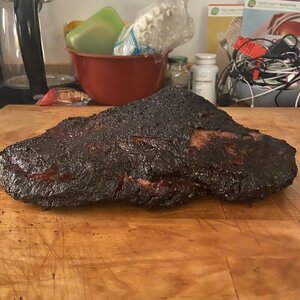 While the moist side was perfect for my taste, the lean side looked a little light to me. Does anyone ever turn the brisket during the cook? I did point side towards firebox, spraying with apple cider vinegar every now and then. Wrapped it at 175 after a 5 min rest (I'd previously wrapped a flat after 165 and I thought it could be a little more cooked). Pulled it off once I got 203 as the lowest temp. Prob around a 12.5hr cook at 250ish. Two hours resting in butcher paper on the counter.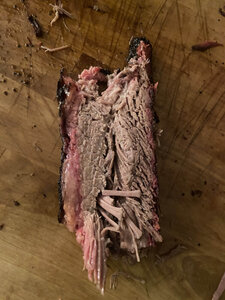 Thanks for reading and feel free to shoot if anyone has thoughts. I was fairly happy for my first full brisket, but it could always be better!