39
44
Joined Aug 19, 2018
I've been wanting to reverse sear some steaks for awhile. I bought a prime top loin for Christmas, so I cut a couple 2" thick and set them aside for the smoker. They turned out great. I'll probably do ribeyes next time, but I prefer a leaner cut when grilled, so that is what I had on hand. Enough words, here is the Q view:
2" prime NY strips
Seasoned with Montreal steak seasoning and on the
WSM
with potatoes on the lower rack. (I really need to do a mod to manage the probe wires.)
Rolling smoke on the
WSM
at 200-220F with hickory and pecan. The kettle on standby for the sear.
Resting before the sear.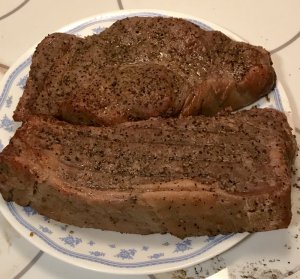 Searing on the kettle.
Delicious
Last edited: