Smoking Guru
OTBS Member
SMF Premier Member
★ Lifetime Premier ★
5,587
2,373
Joined Dec 14, 2013
Bought a 3 lb. chuck , was gonna smoke it , but decided to SV . Used Bears time and temp . 133f for 21 hours .
I seasoned with Freddy's steak burger seasoning and vac'd it overnight .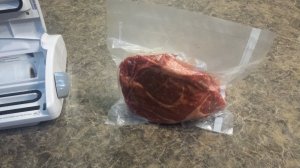 I use an old brine bucket my Dad had . Wrapped it up to help the temp.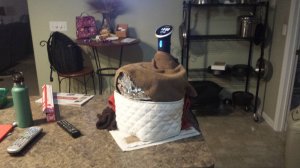 21 hours and out of the bath , saved the liquid but didn't use it .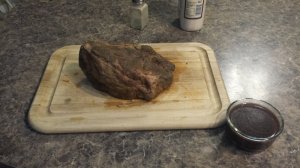 Used the Genesis 310 to char it up . did ok , needed to be hotter . 25 degrees outside . Grill didn't want to keep up .
Sliced ,,,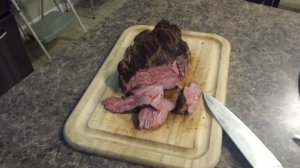 Supper ,,,
Sour cream and butter in the mash taters . Green beans are a steamer bag , but I've been simmering bacon in Lipton beefy onion soup , steam the beans then add to the soup . Great flavor .
I'm trying to find words for the chuck . Poor mans rib roast keeps coming to mind . I figured this was going to be good , I did not expect it to be ,,, so much like a rib roast . It was so good . Tender , flavor , texture . I love some crock pot chuck ,, but man I'm just totally surprised how this came out . Bear thx for the leg work on the time and temp .
If you have a SV and have not tried this , you should .
Chop