Smoking Guru
OTBS Member
SMF Premier Member
★ Lifetime Premier ★
5,858
2,578
Joined Dec 14, 2013
Usually do this in cast iron , but had to try this in the 360 .
De-boned some chicken thighs , left skin on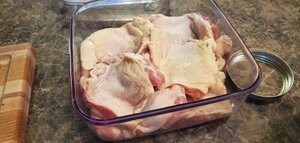 Put them in a vac canister , and covered with pickle juice .
I save all my pickle juice .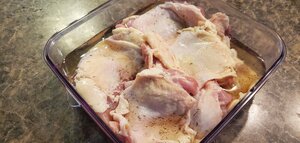 Lid on , pulled the vac , and into the fridge for a couple hours .
I used corn flakes cereal this time . Crushed up to make some into crumbs .
Flour , egg then cereal .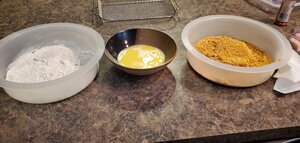 Ready to go in the 360 . Set to bake at 375 .
Used both the basket and the baking tray .
Son had some mac and cheese goin .
Smoked gouda , alpine cheddar and hot pepper cheese .
Internal temp 165 , ready to make a sandwich .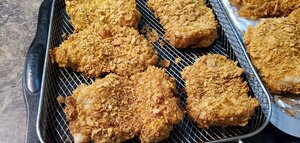 Used dinner rolls from GFS . Just a bit bigger than slider buns .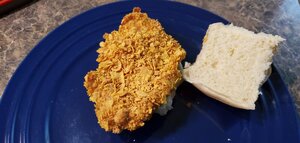 OK , I got a tip from a trusted source

Bearcarver
on this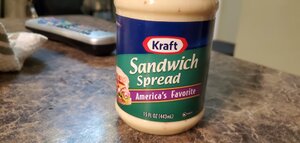 Covered the top bun . This stuff is addicting . Went great on the chicken .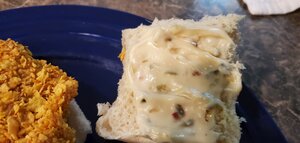 Close up and eat . Son baked off the mac , and Daughter did some sprouts with olive oil and garlic in the air fryer
That pickle juice really makes the chicken tender , and adds great flavor .
The smoked gouda in the mac was great , and the brussel sprouts went perfect with this .
Thanks for lookin .