Smoking Fanatic
SMF Premier Member
826
711
Joined Dec 1, 2019
Although there is nothing I enjoy more than catching and smoking my own fresh caught trout, skin-on steelhead is my favorite store bought species. My Sam's Club carries it and it's an excellent quality. Steelhead has about the perfect fat content, and the fillets are very even on thickness. I use it for home canning too..... lightly smoked or with seasonings. I use a dry cure and wrap the pieces in clear wrap. The cure turns to a syrup after the first hour, then following the cure I rinse, re-season and move (unwrapped) to the spare fridge for 18 hours. Here are some photos of todays smoke.
This is the steelhead going into my Big Chief box smoker this morning. I'm burning Pitmaster's Choice pellets with two small splits of cherry. The seasoning is cracked black pepper and roasted garlic powder.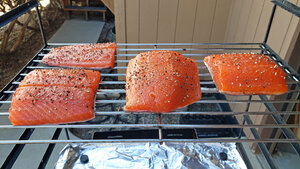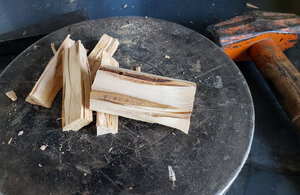 This is roughly 75 minutes into the 90° cold smoke, then I ramped up the box to 140° for an hour.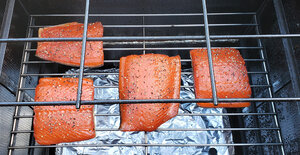 Here we are at about 3 hours.... the tail piece was already done, the internal of the remaining pieces is in the 130°'s. The smoker is now running at 160°.
The finished product, the internals are in the low 140°'s. I like to rest it overnight in the fridge, the color will bloom and the time helps the flavor and texture.