Legendary Pitmaster
OTBS Member
SMF Premier Member
★ Lifetime Premier ★
8,547
4,810
Joined Dec 14, 2013
Found some whole loins for a good price , $1.29 / lb. Bought 2 froze one . I like to put them in a net , but this time I went without . Cut in thirds , used TQ , brown sugar , and liquid smoke in each bag . Yeah ,,, liquid smoke . It's ok .
Went 14 days in the fridge , then rinsed and back in fridge over night .
Hung in the smoker at 130 for 2 hours . I used 12 " tube with oak pellets and wood chips mixed in . I saw Dave use some mesquite on a ham , so I did the same . Gave this a nice dark almost red color . Not to strong at all . Tube ran for about 6 hours . Came out pretty good .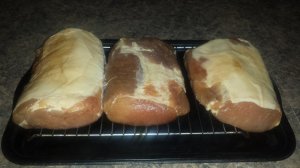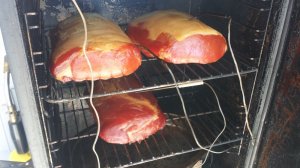 Took on some color pretty quick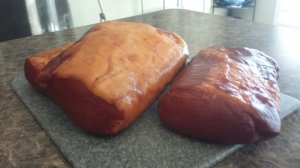 I like when it has the lite and the dark meat .

Bearcarver
Tender Quick is the way to go on loins for me .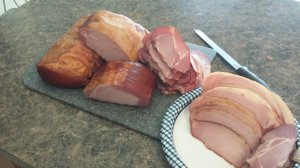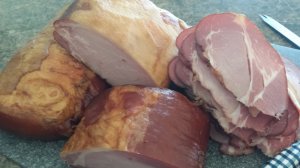 Thanks