Legendary Pitmaster
Original poster
OTBS Member
SMF Premier Member
So over time I've been working on my Al Pastor ribs and I've got'em down pretty good now.
For my day late 54th birthday feast I wanted to try something a little different, and instead of pineapple I went with mango.
And what a pleasant result I had.
Started with some butter and brown sugar in a saucepan and caramelized it.
Then I took some chunky Mango Salsa I bought at Costco and tossed it in the blender to smooth it out, added that into the caramel and let it cook a bit. Thought it was still a little thin so I added a healthy amount of cornstarch slurry and it thickened up like jelly.
Gave it a taste and decided it need a kick. So I added in a generous jolt of Guajillo chile powder, and now it knew how to get some attention.
So there I was with a new glaze, one with a serious attitude to compliment it's delicious fruitiness.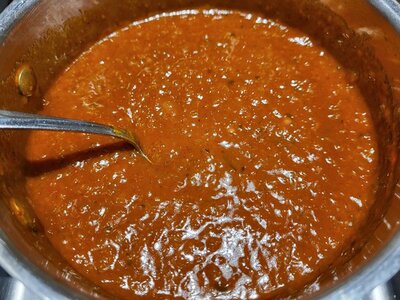 I rubbed my ribs with my standard pork rub recipe, smoked them over cherry at an average temp of 240° for about seven hours.
Chile Mango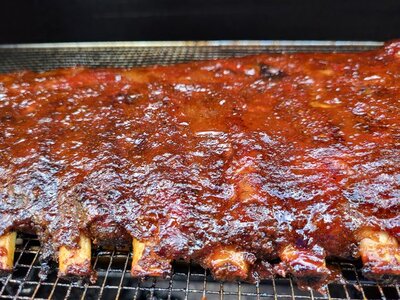 Dry Rubbed
I glazed one rack with the Chile Mango, one thick layer about 45 minutes before they were done and then gave them a thin layer when they came out. The Chile Mango was a big hit with the family, even the In-Laws with their soft mouths got in on them.
I should've just glazed all three racks.
I froze enough of it to do 4-6 racks in the future.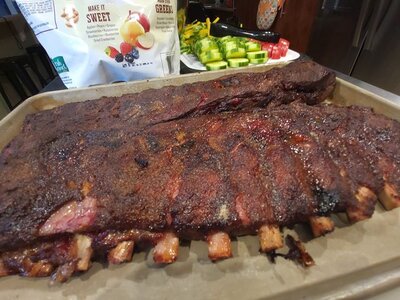 For a side I debated a Wild Rice dish of some sort.
Straight up wild rice? Wild rice cooked in butter, chicken stock and garlic? Wild rice with vegetable stock and a mix of diced veggies?
Then it came to me, a recipe I'd been wanting to try,
Fondant Potatoes
For best results Fondant potatoes are best done with a starchy potato like Russets, gives the best smooth creamy texture inside.
Peel the taters and cut them into rough cylinders with flat ends, all about the same height, I went about 1-1/2"-2".
Preheat your oven to 350°, and grab an oven safe frying pan, e.g. cast iron.
Add some bacon grease (my choice) and fry them hot and fast like a scallop on both sides till beautifully golden brown and crisp.
Reduce the heat to med-low and add a very generous amount of butter and either fresh thyme or rosemary, I used sprigs of fresh rosemary.
Also add some chopped garlic, now saute the bottoms of the taters for a few minutes.
Be sure to spoon some over the tops too and then hit them with plenty of salt and pepper.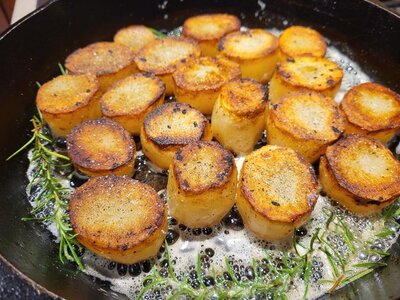 Now add some vegetable or chicken stock, about a third of the way up the sides of the taters, and transfer to the oven till they're tender.
In about 25-30 minutes they'll be tender, and they'll have soaked up most of that butter and stock.
Spoon what's left across the tops again and serve.
Be prepared to say, "Wow, these are fantastic!" and listen to the compliments.
I also laid out a self service salad bar.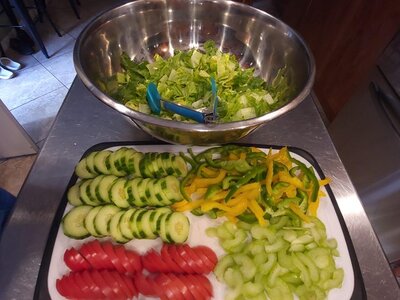 And had a bag of frozen Orange Slices for dessert.
No plated shots, the HERD was hungry and it was best to get mine and get out of the way.
Last edited: