Legendary Pitmaster
OTBS Member
SMF Premier Member
★ Lifetime Premier ★
7,587
3,953
Joined Dec 14, 2013
After talking with

xray
about homemade tortillas , he inspired me again to make some . They are so good , and pretty easy . Can be a bit of a challenge to get the moisture right . I like chicken with the white corn masa , so got a couple skinless / boneless breast . I find the way I like to do the breast for tacos is on the stove top . I have a set of pre- 1986 Revere ware pots and pans that I got when I bought my first house .
Heat up the 10 " with some olive oil . Add the chicken and let it brown up . Might seem stuck , but it's not . It will release when it's ready to flip .
Do the same on the other side . Getting good stuff on the bottom of the pan .
I hit the pan with low salt chicken stock , and put the lid on to catch the steam . Turn the heat down and let it cook .
I'm not worried about temp . I want this to shred . So I just let it go . You will smell the chicken when it's time to check it .
I take the lid off and just push on it with a fork . If it spreads out , it's time to shred .
This is ready .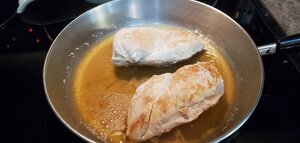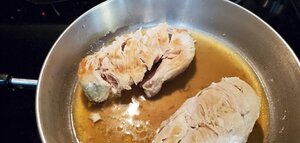 Get it shredded up . I added a pack of low sodium taco seasoning . A Couple shakes of Franks Red hot Chile Lime .
Add some more chicken stock , lid on and let it all soak up .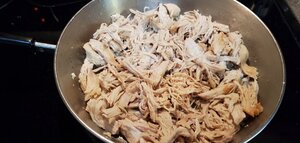 While that rests , I mix up the masa so it can sit for 15 minutes or so .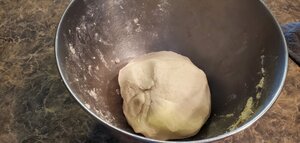 I normally make

chilerelleno
rice , but saw this Zatarains at the store . Looked interesting
and I all ready had enough going on . I do take a page from his playbook . I add oil to all my rice cooks .
Store bought mix or from scratch in the rice cooker / top of the stove . Keeps the rice from sticking .
Got going pretty fast from here . Pressed out some torts . Used the cast iron to cook them .
Then in a Pyrex dish covered with towels , Letting them steam together is key . They come out soft and pliable .
That rice is really good . I think adding the oil is a must .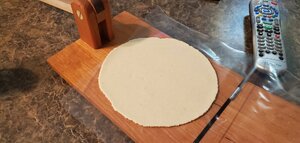 Plated up with the rice and some nachos .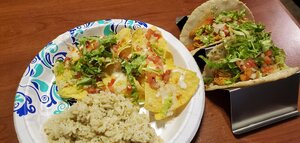 Pretty good meal . Gets fast paced once the tortillas go in the pan .