Epic Pitmaster
OTBS Member
21,887
4,000
Joined Oct 4, 2012
Disclaimer: I cooked these in the oven, but with a higher temp grill you could cook these no problem.
So the other day I posted a chicken nugget recipe in the dutch oven forum.
If you like chicken nuggets, this recipe is a keeper. I did tweak one step. For the liquid batter I added a shot of vodka. The alcohol lightens the batter a bit and is something I do I when ever I use a liquid batter. Annalee has requested that we try and adapt this to oven baking. So I'll be...
www.smokingmeatforums.com
My wife requested that I adapt the recipe to be cooked in a healthier way. So this is what I came up with.
For the nuggets I used chicken breasts. They worked just as good as the thighs. So if you prefer all white meat go for it.
One ingredient I didn't add into the meat mixture from the original recipe was the powdered chicken stock. I just was lazy and didn't want to grind up a cube. I didn't miss it so probably will skip it in the future. I did a double batch again.
My plan was to use Panko with seasonings. We didn't have Panko but we did have a can of Italian seasoned bread crumbs. So that's what I used. I spread a couple cups on a sheet pan and toasted them in the oven (400°f) for theee minutes. Stirred and toasted for another 3 minutes. Let that cool. This is an important step for any breaded food you want to oven bake. So don't skip it.
Earlier I had run the meat through the processor and seasoned it. I let it rest in the fridge for 3-4 hours.
For baking I set the oven up at 400°f .
While the oven was preheating I shaped and coated the nuggets. I mixed up an egg with a bit of water. Dipped the shaped meat into the egg wash. Then into the toasted bread crumbs. Places on a wire rack over a sheet pan. I sprayed the nuggets on both sides with olive oil. Once all the nuggets were shaped and breaded into the oven they went. It took 20 minutes to get a good crisp crust in our oven. I flipped them at the ten minute mark.
These were super tasty and Annalee declared them to be superior to the fried version. I don't know that I'd go that far but they are really good and since we don't have to set up a fryer I bet we'll make these more often than the fried ones.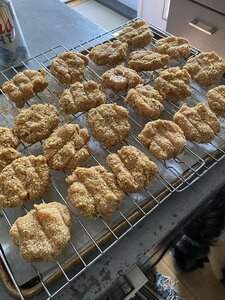 Ready for the oven.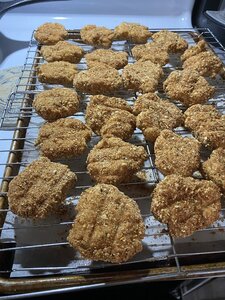 Out of the oven
Enjoy!!!!