Master of the Pit
OTBS Member
SMF Premier Member
1,807
1,809
Joined Mar 8, 2017
We have a local Latin American grocery store, called Ideal Market. They have some really good meats, and we love doing different tacos with what we find there. Tonight was no different, but it came out better than usual. I finally got to use my Christmas present, a griddle from Cabelas. I was really pleased, because it performed about how I envisioned.
Got my Lang chargriller all ready to add my charcoal.
I know I probably used more charcoal than necessary but I wanted to grill the fajita meat directly over the charcoal, and not on the griddle. We like the steak with a little char.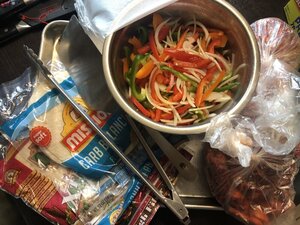 we used mission low carb tortillas, and I chopped up green red and orange bell peppers, as well as one yellow onion. Tossed it in some olive oil, salt and lime. Yum! The meats I chose were (as mentioned) marinated fajita skirt steak and the Al Pastor Pork. Now, we always get the fajita steak. It's incredibly seasoned and makes a wonderful taco. The al pastor was something I never had tried. It was simply minced up marinated pork and onions. Looked good enough to me.
Other than that, everything was pretty straightforward. I bought some of the stores pickled onions, spicy guacamole & pico de Gallo. Also got cotija cheese, I chopped some lettuce, and I chopped a yellow onion, and added cilantro and lime. A taco staple around here.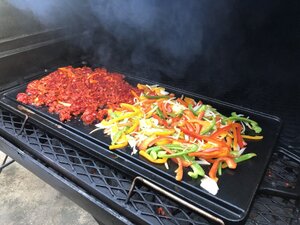 the Al pastor, and all of my sautéed veggies fit on the griddle perfectly! And I had room in the back for the fajita steak!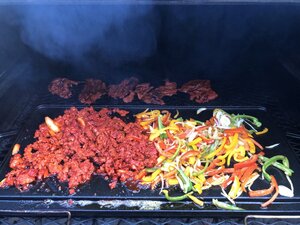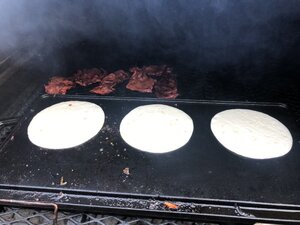 Once the meat and veggies were cooked, I just tossed the fajitas on the griddle for a few seconds a side. Really like my new griddle!!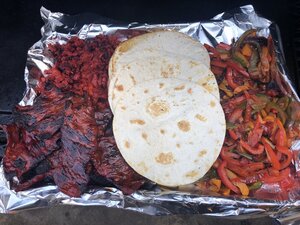 Starting to get hungry!
we did tacos several ways, but here's a pic I managed to get while we were stuffing our faces. Plenty of delicious leftovers as well!
Last edited: