Smoking Guru
Original poster
OTBS Member
★ Lifetime Premier ★
Making some Cajun Crawfish Cornbread Casserole. This stuff is really good. Do not buy china crawfish as you will ruin your dish. This is what I buy: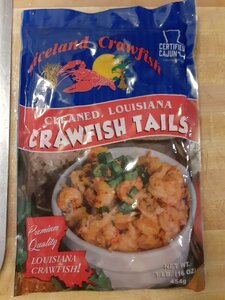 Everything ready: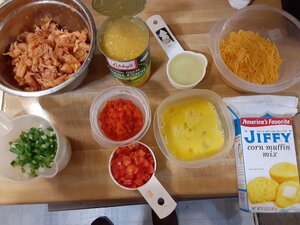 Mixed up and in pan. Normally use a cast iron pan but taking this to the brewery to meet with friends.
This how would look in CI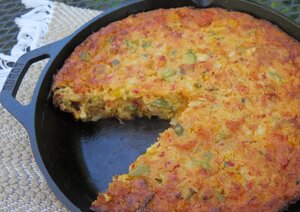 Recipe:
Ingredients
1 lb pound, peeled and partially cooked or fully cooked crawfish tails (12 oz package can be substituted), defrosted
1/2 tsp Tony Chachere's Creole Seasoning or seasoned salt
1/4 tsp garlic powder
1/8 tsp cayenne pepper, to taste
1 small onion, chopped (about 1 cup)
1/2 bell pepper, chopped (about 3/4 cup chopped)
1 large jalapeno, seeded and finely chopped (about 1/4 cup) (optional)
1 (4 oz) jar diced pimentos
1 (14.75 oz) can cream-style corn
2 large eggs beaten
1/3 cup vegetable oil plus additional oil for oiling casserole dish
1 cup (4 oz) sharp cheddar cheese
1 (8.5 oz) box Jiffy Corn Muffin Mix OR 2 cups of family size Martha White Sweet Cornbread and Muffin mix OR substitute 1-1/2 cups yellow cornmeal, 2 tsp baking soda and 1/2 tsp salt — increase cornmeal to 2 cups for firmer casserole
Preheat oven to 375 degrees. Oil a 9″x13″ casserole dish or 10″ cast iron skillet.
In medium bowl, combine crawfish tales, Tony Chachere's Creole Seasoning, garlic powder and cayenne pepper. Set side.
In large bowl, combine onion, bell pepper, jalapeno pepper, diced pimentos, cream style corn, eggs, vegetable oil and cheddar cheese. Stir to combine.
Add in the seasoned crawfish tails.
Add the cornbread mix. Pour into oiled 9″ x 13″ casserole dish or oiled 10″ cast iron skillet.
Bake at 375 degrees for 45 – 50 minutes until bubbly, browned on top and edges begin to pull away from sides of casserole dish.
Remove from oven, let set on counter for 15 – 20 minutes, then cut into 6 slices and serve.
Done
Last edited: