Smoking Guru
OTBS Member
SMF Premier Member
★ Lifetime Premier ★
6,270
2,936
Joined Dec 14, 2013
Had a brisket fail last weekend , so lookin for a way to use it up . Had some dough in the fridge . Thought I'd try a pizza .
Came out pretty good . Taste was like a cheese steak . The fermented dough makes a nice thin crisp crust . This was good , but would have been great with a softer / thicker crust . Here's what I did .
Dough out of fridge warming up a bit .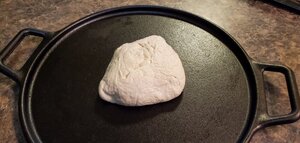 Cut a few slices of brisket and chop it up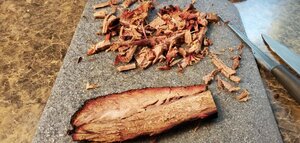 Spread the dough after it relaxes
No sauce , provolone cheese on the bottom .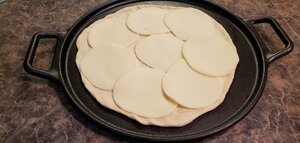 Cooked up some green pepper on sweet onions .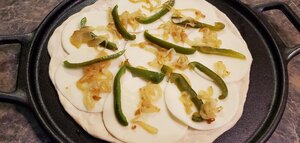 Add some brisket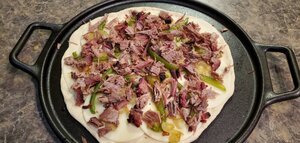 I put some St. Louis pizza cheese on top . It's good stuff ,
but it tends to get dark .
I start this on the stove top . To heat the cast iron , and start the bottom cooking .
Out of the oven .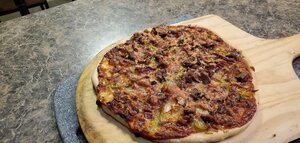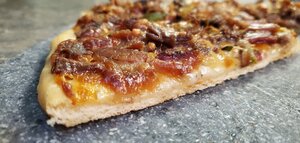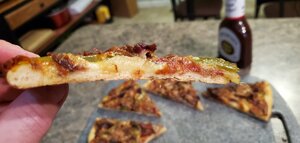 The thin crust is great for pepperoni or sausage . This was good like this , but softer would have been great .
Thinking I could have just cooked the dough thru on the stove top .
The grilled onions , peppers and the provolone would have been good by itself .
The brisket reminded me of bacon . Maybe it was the smokey flavor .
I did put some Sweet baby Ray's on one slice . Good , but I liked it better without .
I will make this again with a few tweaks , but it really tasted like a cheese steak .
Thanks for lookin .