132
103
Joined Jan 28, 2019
I decided to smoke some baby backs and a whole chicken today. Mixed it up with some potato bombs as the side. These are awesome and the stuffing options are unlimited. Here area a few pics of the cook.
I used my jalapeno corer to cut a hole in the center.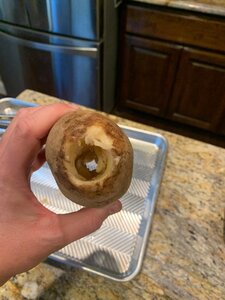 Todays ingredients of choice. You can mix this up and stuff with whatever you want. Any kind of meat etc...
Put the cores back in, wrap with bacon, then wrap in foil.
These turned out really good. I cannot seem to get this smoked Gouda cheese to melt well. This is the second time I have tried it and it just doesnt want to melt. I love the flavor though.
Here are some other random pics of the smoke.
Just finished the outdoor kitchen/patio setup. Thanks for looking!