Smoking Guru
Original poster
OTBS Member
SMF Premier Member
Have had this on my to do list for couple years since seen it from Jake's,
https://www.smokingmeatforums.com/threads/blackened-catfish-with-crab-claw-cream-sauce.300853/
Took at stab at it. Plated with cauliflower mash. The catfish is some blues we caught. They extremely mild and kind of thick to work with. Just give me some channel's!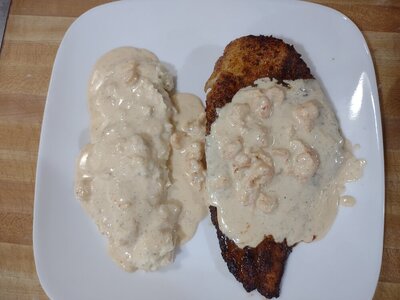 Finish with a shot of moonshine. I been playing with flavored moonshine. Did some chocolate last time. I really like Grand Marnier so tried some orange and made it sugar free. Turned out pretty good. This the last shot of it. Strawberry up next.