Hi,
Just a quick initial review really with a much better set of pictures... I haven't cooked on it yet, just seasoned it a couple of times now (lit it up to experiment with temp etc too) and I am nothing short of impressed so far.
It's huge, especially next to the old char-griller! It comes in at a touch over 500kg and 2.4m end to end, with the stack it hits just over 2m tall. The firebox is double insulated with a heavy duty coal tray and separate ash pan underneath, good heavy door with a nice amount of adjustment for air flow. It is universal flow, the stack can be placed on either side with a plate supplied for the hole on the side not being used. It comes with 6 3/4 inch steel tuning plates and a grease drip tray leading directly to the drain tap. It comes with 2 x 145x63cm and 1 x 142x50cm cooking racks that slide easily and can be fully removed with ease. The top of the FB comes with a griddle plate and cover that can be closed it not using.
Preety mucgh my onnly grip are the wheels, they're not really good enough for the size and weight of the beast. You can move it easy enough but you could move it much easier with a set of beefier and more rugged tyres. Easily moddable though so it's not really a long-term concern. Other than that, she holds temp like a trooper and is pretty economical on the fuel for the size of it, if you have the spare cash, I would certainly recommend the company, they have a great range for the pricepoint. I was looking about $11,000 to import a Shirley Fab model and that was no bueno, I think I found a nice mid-ground with this!
Thanks all,
Hooper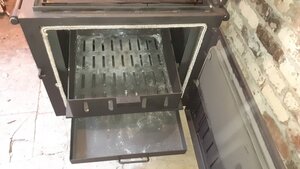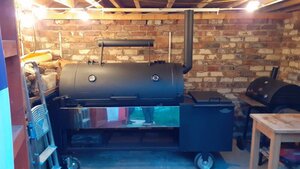 Last edited: