Master of the Pit
Original poster
★ Lifetime Premier ★
Barley soup is a winter staple for us. Already made 2 batches with beef, but wife wanted something with chicken.
Ugh, I hate searching the web for a recipe as I only use beef.
I prefer regular pearled barley but quick is all I can find in the area stores.
Well, a recipe with chicken was almost in front of my eyes.
On the backside of the box is a recipe for "chicken barley chili"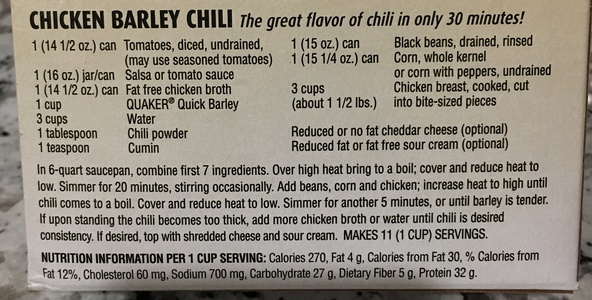 Wife gave it the green light.
OK good as I have all the ingredients on the shelf.
Well, maybe not as my tomatoes ended up being a 28 ox can of whole tomato and chicken broth only comes in quarts.
OK time to adjust. I decided to omit the salsa and replace with other ingredients from the pantry.
I browned 1-1/2# of diced chicken breast in a large skillet with a splash of olive oil and 1/2 Tbl chili powder and 1/2 tsp cumin.
Dumped into the dutch oven.
Diced up 1/2 large onion and cooked to clear then added 2 chopped garlic cloves and 1 large diced jalapeno. I de seed the pepper but leave the membrane due to the flavor it adds to a dish.
Added to the dutch oven.
Added the tomatoes, plus 1 quart of warmed chicken broth plus another 2 cups of water and 1/2 Tbl chili powder, 1/2 tsp cumin. and 1 tsp Mexican oregano.
Brought to boil and simmered for 30 minutes to break up the whole tomatoes.
Added the chicken and the (rinsed drained) beans. Only had frozen corn so I used the bean can to measure the corn.
Then I added the barley.
Bring to simmer and cover for 30 minutes.
I didn't plan to post this as it was a first time put together.
AS you can see by the tomato ring on the DO, we declared it a winner winner chicken dinner.
Bowl shot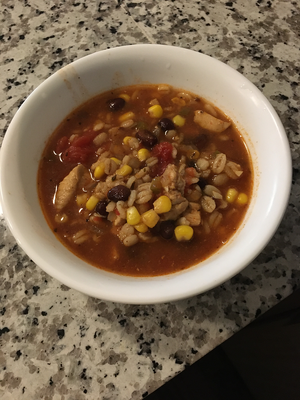 This was very flavorful and spicy. If you want less heat either drop the chilipowder or reduce the jalapeno.
My real test of soup or chili is the next time eating.
I had a bowl for breakfast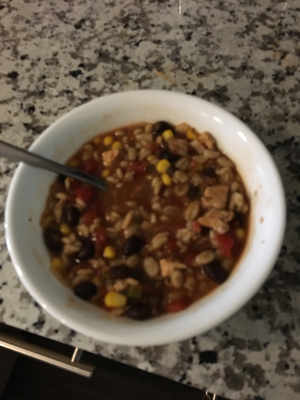 I think you can see the barley has absorbed a lot more liquid. This is why I prefer regular pearled barley as it doesn't take up as many liquids.
Thanks for looking