Epic Pitmaster
OTBS Member
SMF Premier Member
10,956
2,761
Joined Apr 4, 2013
Found this in the brine bucket Thursday so thought I would dry and smoke it today.
Used Pop Fassett's brine cure, cutting back the sugar slightly. Cured a couple a weeks.
After letting it dry in the reefer, and then the fan, it went in the preheated smoker.
Maintained 100 to 120 degrees.
4 hours of Corn cob, hickory & apple (pellets).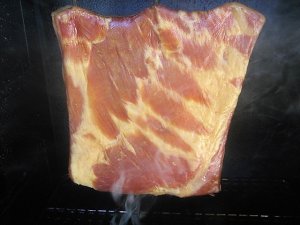 Then 4 hours of pecan (pecan shells using the MECS )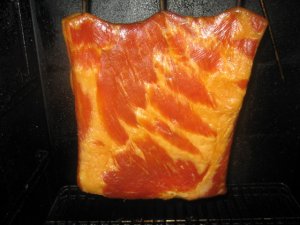 I think its had enough.......... back in the reefer!
My hands smell just like smoked bacon!!
I got those slabs for 5.00 ea. and were gone before I could get more. BTW Just so ya know the packaging said I believe that the due date on them was a couple a years back. I assume they were frozen, cause they taste great! LOL. Thats why I didn't try to get more faster. Really cheap price and two year old date sorta scared me.
I forgot how pretty that pecan was. I am scared to go to sleep tonite, I might eat my fingers!