I've been pretty scarce for the last three months. Our youngest daughter had a baby in November and we now have the most beautiful granddaughter ever! I'll back that up with photos, so be careful!
Said daughter lives in the Netherlands. Hence the absence. It's good to be home, but man I am in baby withdrawal.
I was in the butcher shop last week and this ribeye just jumped into my bag and followed me home. I planned to smoke it and reverse sear. I started by rubbing it with SPOG.
I let it run over hickory until about 115. I pulled it and let it rest in foil while the grill was heating up. I seared it for two minutes a side to about 130.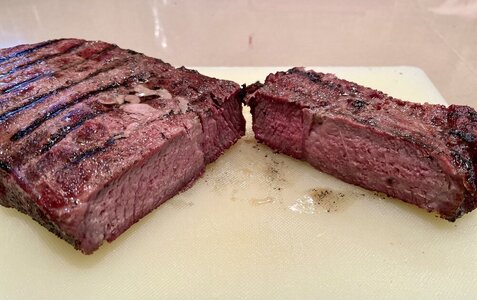 I made a red wine glaze to go with it and some roasted potatoes. We served it with a nice Napa Cab and a pear salad. It was pretty tasty. It is good to know the smoker still works.
We are glad to be back. However, we received some baby photos this morning that caused me to start cruising the Delta site for tickets! This being a long distance grandparent is going to be really, really hard.
Thanks for keeping the lights on!