Epic Pitmaster
OTBS Member
SMF Premier Member
10,885
2,671
Joined Apr 4, 2013
OK, you liked the Strawberry, its Memorial Day gotta have something sweet to finish the meal. What better than apple pie. In case you don't know me, I am not big on boxes or cans, or freezer premade.
I made the pie last night so it would be ready today. When I made my coffee this morning, I noticed a mouse had cut out a big slice of my pie. Probably had it with coffee. I must have scared the mouse cause it forgot about the ice cream in the freezer. Or maybe just too hungry.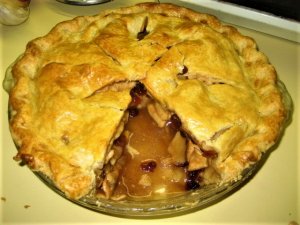 Those spots that look like buggs in the pie, well that's what I would tell my nephew anyway, those are cranberries. I gotta tell you I have tried caramel apple, bacon apple, pecan apple, etc etc... But I just can't top those dang cranberries. Its like peas and carrots! Apples and cranberries!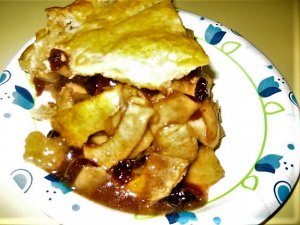 Well I'll be back when the ribs are done..... Thought I would get ya thinkin about how much time ya got to make that apple pie!
Ingredients:
4 or 5 Honey Crisp apples peeled & wedged
1/2 cup brown sugar
1/2 cup sugar
1/4 teaspoon cinnamon
1 cap maple extract
eggwash
1/8 teaspoon nutmeg
2 tablespoons cornstarch
1 9 inch pie shell
Preheat oven 400 Degrees
Directions:
Combine apples, cinn, sugar, maple extract, and spice. Place in pie crust top with crust. Paint with eggwash. Slit vents.
Bake for approx 45 to 50 mins. (You can also add raisins and/ or whole pecans also.)
You can also throw in cranisins or cranberries.
Have a great day off, and remember why we got the day off.
Last edited: