Master of the Pit
Original poster
OTBS Member
SMF Premier Member
Now they I figured out how to grill these pork steaks been doing them fairly often. Hot, fast and Medium done. Used teriyaki sauce with a chunk of my fresh frozen pineapple grated in. A big storm hit as I was getting ready to grill. I will take every drop of rain we can get. Was pretty windy. I dont use the cover doing these as I want as hot as I can get. Roasted some squash. So good like this. I used a local Spicy Maple seasoning for them. Was like it was made for it.
Started out with a drink. Bought this Cilantro Lime Jalapeno mix the other day and man is it good,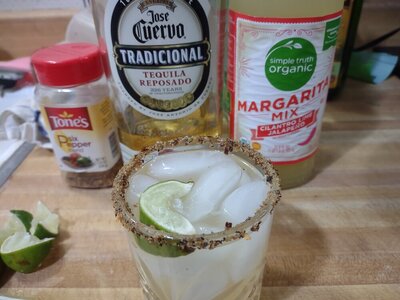 Keto Blueberry Cheesecake for Dessert. A Thanks goes to Chef Jeff for helping with this.