Master of the Pit
SMF Premier Member
3,833
1,338
Joined Aug 13, 2015
Good afternoon, folks.
Every time I go to the grocery I look for something to use my new rotisserie for. I've looked at Duck in the past but the price threw me off and I worried about whether we would like it.
The Mrs. had never had it and it had been years since I did. On impulse I picked one up.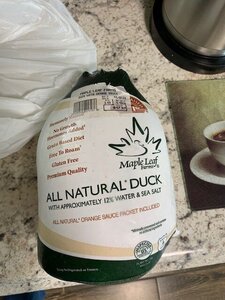 Then it was a matter of recipes. I had no idea where to start. I found one on Allrecipes that looked interesting.
Things went off the rails quickly. It called for an Orange and I couldn't buy just one or two so I went with Mandarins
because my wife loves them. It also called for fresh Cranberries and GrandMarnier Orange Liqueur for the glaze. They didn't have fresh cranberries and I didn't want to run around town looking so I figured I could soak dried ones and make it work.
I gritted my teeth and plopped down $13 for a half pint of the GrandMarnier.
I peeled 3 Mandarins and cut the sections in half, sectioned a sweet Onion and stuffed them in the cavity.
Then I stitched up the openings so things wouldn't fall out, leaving room for the spit.
A seamstress I ain't....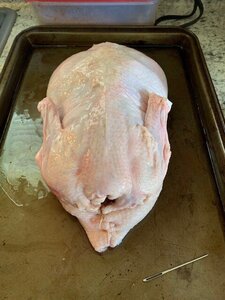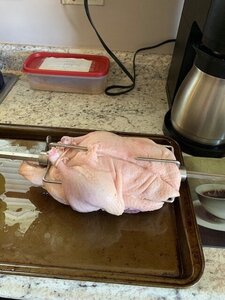 I forgot to dust the inside with Chinese Five Spice before stuffing, even though the jar was right there on the counter.
I told you things went off the rails.
Time to hang it on the KUDU and spin with a dusting of SPOG.
Tossed a rack of St Louis ribs on the Weber in case the Duck bombed.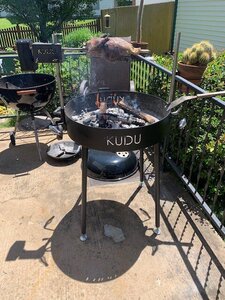 After about 3 hours the IT of the thigh was at 140F so It was time to glaze.
The Cranberry glaze didn't look right to me. Too chunky (probably because it was meant for a roaster pan), so I made one up with Maple Syrup, Molasses,
Karo Syrup and a shot of the GrandMarnier with a bit of my Pork rub mixed in.
I know some say rare is best for Duck, but all the recipes I looked at called for 165F and the package actually called for 180F.
I erred on the side of caution because I knew the Mrs. wouldn't touch it if it didn't look done and I wasn't crazy about it either.
It got away from me and when I pulled it off the flame the breast was 172F and the thigh was 180F.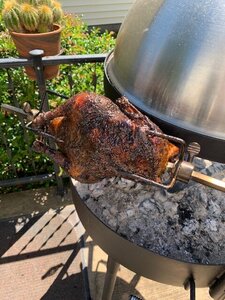 I still had a fire going so I switched the ribs to the fire and tossed on the Peppers.
I can't cut up a bird without destroying it, especially when it's this tender.
There's some missing because I have a bad habit of nibbling while cutting and the Mrs. wanted a plate RIGHT NOW.
I was worried about the higher finish IT but it was moist and tender as can be. We didn't even use the packet of Orange sauce
that came with it. We may tonight. There are definitely leftovers!
I know you're supposed to have brown rice or something with Duck but we had macaroni salad, slaw and cheesy peppers. Sorry.
All told, when we do Duck again (and we will) I'll probably use the same routine.
The GrandMarnier resides now in my spice cabinet...
I hope everyone is having a nice Holiday but don't forget what it's all about.
Remember those who sacrifice to keep us safe and free.
Thanks for looking and don't let your fire go out!
Dan
Last edited: