Smoking Guru
Original poster
OTBS Member
SMF Premier Member
Whole Chicken Wings finally, brined and smoked
I have no problem with splits , but I really wanted the full wings , so I could lock them and smoke. All the places I go sell them split which is a better price as you are not buying the tip.
So I found some at Walmart. Little pricy but I am special and I wanted them ,lol
I have been saving all my pickle juice and as

TNJAKE
mentioned to me to give it a try , so into a bag with the juice and in the fridge for 14 hours . Flipping and rubbing when ever I thought of it.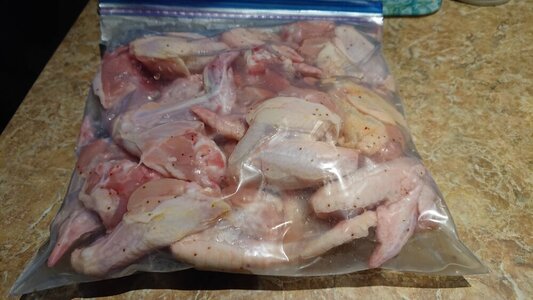 Took them out and dried off, Than used one of the spices I received from an older throwdown. Called Turkey rub, I tasted it and it smelt like how I make my stuffing . So gave it a try, It was real nice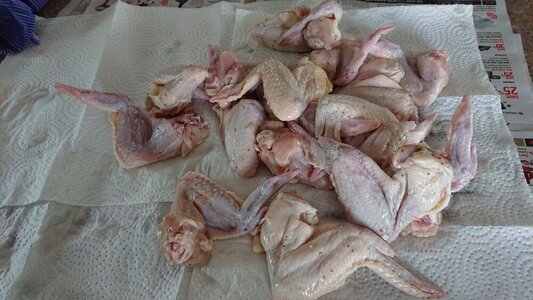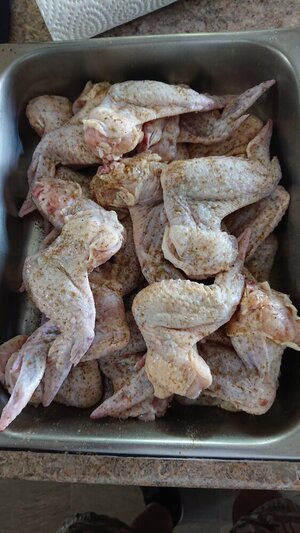 So after I dusted them up with the Turkey Rub I locked the wings ( folded them ) they went into the smoker for 1 hour and 10 minutes at 275- 300 deg. with some Mesquite
Mona's family showed up for the evening right at supper time so ran to the freezer and grabbed some burgers to throw on the grill also,
Some wanted no cheese on the burgers ( that's just crazy, lol )
Through the wings on to crisp up the skin a little more while the burgers were cooking
Last 5 minutes or so I coated half the wings in a jerk glaze I had open .
Everyone loved the wings and there was nothing left after the meal , so that was good ( not really I love having a few to snack on later, ha ha ) oh well.
Here is the plated shot of supper.
The brine added a nice sweet and sharp tang to the meat , I will do that again but maybe leave in the brine even longer. And the rub I will try on other items also , loved the taste and the smell
Oh yes Mona whipped up a package of turkey gravy as she was doing up all the fixens , bacon, onions, tomatoes etc
( I like fried and raw onions on my burgers )
It was a great day and glad the family showed up and eat all my food, but that's what I really love . That and a perfect day in the yard
Thanks for staying around for a little ,
David