Master of the Pit
OTBS Member
SMF Premier Member
1,418
1,290
Joined Mar 8, 2017
Sort of, anyway. I've been taking classes at our local Southern Food and Beverage museum here in New Orleans. This Sunday, the class was on venison processing. I've come to be good friends with the curator of the meat department, and he asked me if I could donate the venison for this class.
It's been a slow season, and I don't have the surplus of venison that I normally have, but it's for a good cause, and I was to get a good portion of the processed meat in return, once the class was over.
Fast forward to today, and I had some beautiful venison andouille sausage from yesterday's class, I wanted to do something with it.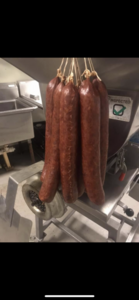 I went with what I had around the house, and since I'm doing the low carb thing, I riced some fresh cauliflower instead of using regular rice.
I chopped some yellow onion, red bell pepper, celery, garlic & mushrooms. I also had some leftover hot sausage that I wanted to use. So, I browned a bunch of the andouille and hot sausage, set to the side and sautéed all of my veggies, and while that was going on I peeled about 1&1/2lbs of shrimp I had taken out of the freezer to thaw on Sunday. Washed it off, & set aside.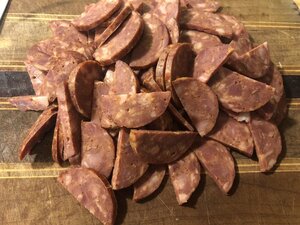 The chopped venison andouille.
Once the onions and peppers were nice and cooked down, I added the sausage back to the party.
Then I added two cans of rotel, along with the mushrooms and some capers. I filled one of the empty cans of rotel up with cream, and added that as well. I also added some white pepper, crushed red pepper, creole seasoning , parsley and garlic powder. I let that simmer while I prepped the cauliflower and heated it up with salt, pepper and butter. Then I added my shrimp to the sausage & peppers mix, along with a bunch of finely chopped green onion tops, and once that was cooked, it was ready to be plated.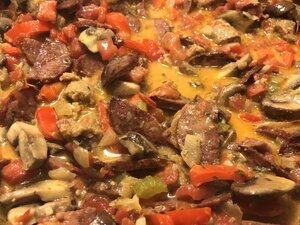 And here is the plated pic. Talk about delicious.
Last edited: