Smoking Guru
Original poster
★ Lifetime Premier ★
Good afternoon!
I'd been wanting to try a sausage from meatsandsausages.com for a while called Chaurice, but the Mrs. informed me she probably wouldn't care for it. OK.
I decided to do two 1Kg batches, one of the Chaurice and one of Kielbasa.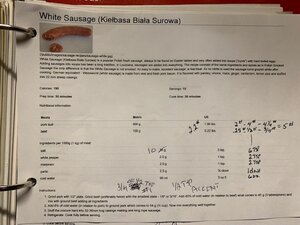 Started with a boneless shoulder from GFS, ground it all through a 1/4" plate, separated into 1Kg parts and had 1lb left over for something else.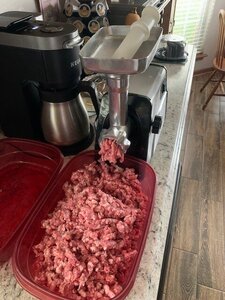 Mixed the two separately and kept in the fridge overnight.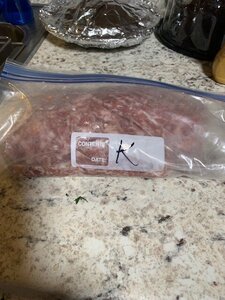 Next morning I mixed them each with about a half cup of SPC and a little water and stuffed.
Chaurice
Kielbasa
Had a couple of pinhole blowouts but nothing devastating and no links lost. I'm blaming the casings.....
Let 'em hang-dry for a couple of hours and moved to the fridge for a night.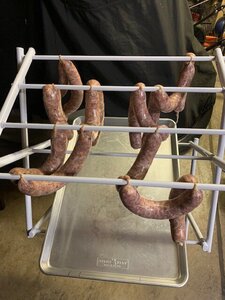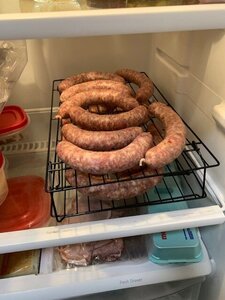 I just had to try them so the next day I used my "Early Christmas Present" to cook a couple.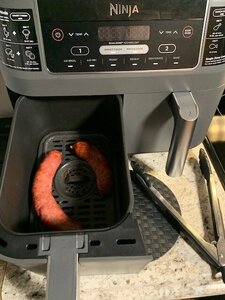 Kielbasa on the left....
The Chaurice is just begging for Red Beans and Rice and the Kielbasa will go for the usual Kraut and fried potatoes or Spaetzle.
Thanks for looking, have a wonderful day and stuff on!
Dan