Meat Mopper
SMF Premier Member
270
178
Joined Jan 1, 2016
At a previous post i mentioned having several rabbits to use up so decided to make some stix.
since rabbit is so
lean pork shoulder was included .Had 3 of them in the freezer so good way to make room. Deboned the rabbit and cut up the pork.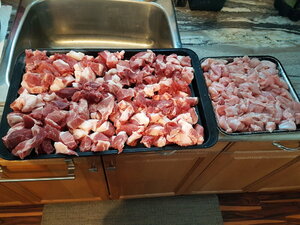 Put in freezer to chill while get spices ready.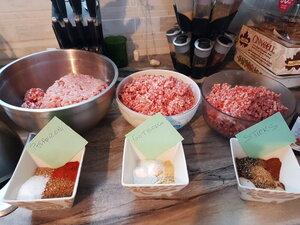 Mix everything together
exept the eca. In the fridge overnight to meld the flavors, next day remix and add eca and stuff.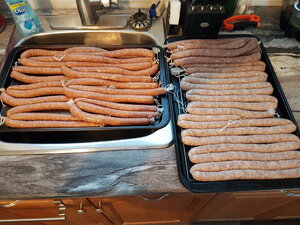 Ready for the smoker. run about 6 hrs. with hickory and finished in water bath to it-160.The few time before i kept it in the smoker till finish IT but the casings dried out and got hard and chewy. Not this time. Nice and tender.
Hang to bloom for a bit then in the fridge in paper bags for a day. Then cut up and vaccum seal before taking it out to my grandkids.
Even couple of bags of ends for me to snack on!