Master of the Pit
OTBS Member
SMF Premier Member
1,425
1,293
Joined Mar 8, 2017
Went to the grocery this morning, I wanted to grill or smoke something, but had no idea what. I promised myself I would shop prices, nothing else. So when I came across these country style ribs it was a no brainer. Cheap, and something I've been wanting to do.
I got 4 of these packs, and picked up some fresh green onion, cilantro and basil. I already knew I wanted to make a Thai chili glazed rib. Last time I did the same with St. Louis spares, and I've been thinking about them ever since.
I did a little research on methods, and got these all seasoned up. I went with what I had, basic soy sauce, garlic powder, white pepper, smoked salt, red pepper and smoked paprika.
I got my Lang 36 patio fired up with pecan wood, and I was ready to go in no time.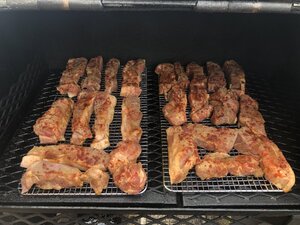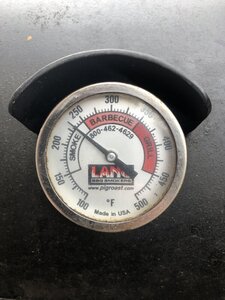 Into the pit they went, I ran the smoker at around 230 for roughly 4-4.5 hours. At about 160 internal, I started to pull and glaze.
I really like this Zea Thai chili glaze. Sweet and spicy, goes excellent with smoked pork.
While the ribs were nearing completion I chopped up a medley of basil, cilantro and green onion tops. Once everything was inside, I simply shake sesame seeds and sprinkle the herbs all over the ribs. Really sets it off and give a fresh flavor to the sweet smoky pork.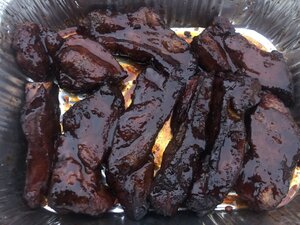 Looking really good with the Zea Thai chili glaze, once these set up (30 mins or so), they are ready.
And here they are all ready to be plated. I had turnip greens with my homemade bacon leftover from last night so I heated some up, to go with the ribs.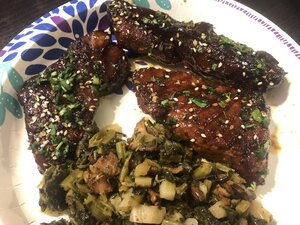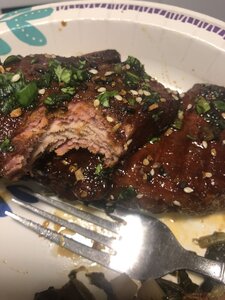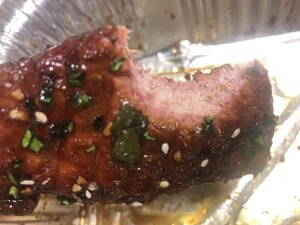 These were so good, I can't believe it's taken me this long to make CSRs. Certainly will do them again, and now we've got a nice bit of leftovers for the week!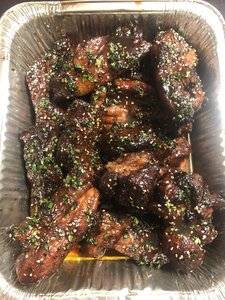 Last edited: