Smoking Guru
Original poster
OTBS Member
★ Lifetime Premier ★
I love Thai food. When ever I have left over steak I make this. I did an extra chuck eye steak just for this. The dressing is what makes this so good!
Dressing:
1 clove garlic, minced
2 Thai chiles diced, I used half a serrano pepper
2 tablespoons very thinly sliced lemongrass I was out so left it out. You can freeze lemon grass. Need to remember next time I make a road trip to Asian store.
1 1⁄2 teaspoons palm sugar, I used Truvia Sweet Complete Brown Calorie-Free Sweetener. Man that stuff good.
2 tablespoons fish sauce
2 1⁄2 tablespoons fresh lime juice
Crush garlic and chile pepper in mortor. If you don't have one you can use side of a knife to make a paste. Add rest and stir. Set a side.
Make salad. I did not measure but this what I put into it.
Romaine Lettuce
Cucumbers
Cherry Tomatoes
Red Onion thinly sliced
Cilantro with stems
Green Onion
Cut beef thin on a bias and microwave 30 secs. Put into a bowl with salad and pour dressing over it. Give it a good mix and pour on plate. I licked the plate clean it was so good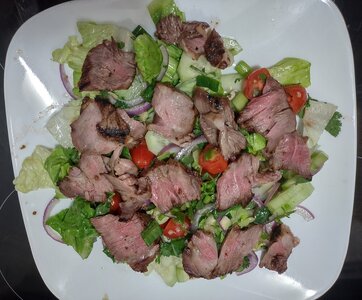 Last edited: