Epic Pitmaster
OTBS Member
21,607
3,330
Joined Oct 4, 2012
The other day I took out what I thought was two chicken breasts. Turned out I grabbed one breast and one pork chop. Plan was to make chicken spiedini. Decided to make the spiedini for the wife and schnitzel for myself.
I haven't used the discada burner in a month or so. Was going to use the discada but opted for the paella pan. I had to have sautéed homemade sauerkraut, apples and onions with my schnitzel.
For the other side dish I made cheesy tater sticks. Here is the recipe for that (i made a double batch). These could be baked but I like them fried.
500 grams of mashed taters (russets work best)
80 grams of grated cheese ( I used three blend mexican) I also added 1/4 cup of Parmesan
100 grams corn starch (You may not need all of this mix in slowly adding a bit at a time).
1/2 tsp salt
1/4 tsp pepper
Any other spices you may like
chopped fresh parsley
Peel and boil taters. Mash taters. Allow to cool. I like to mix with my hands. You want the taters to be luke warm. Lightly coat cheese with corn starch. Add cheese, spices and parsley and mix in. Slowly add in rest of corn starch. You want the mixture to hold together and not be too dry.
For sticks roll out dough into 1/2" thick slab. Using a pizza cutter or knife cut into 1/2" strips. For tots pinch off a small amount and form into tot or ball.
Place on parchment lined baking sheet. Place into freezer (this optional, but I feel they fry better if partially or fully frozen). If you plan on not cooking right away package them and keep in freezer. Just like store bought frozen taters no need to thaw prior to cooking.
Heat you oil if frying to 325°-350°. Vegetable or peanut oil works best. Working in batches cook until golden brown.
For baked preheat oven to 425°. Cook on parchment lined baking sheet until golden brown. Flipping once during cook
If frying fish or meat cook after taters in same oil.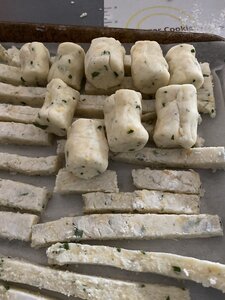 Frozen and ready to fry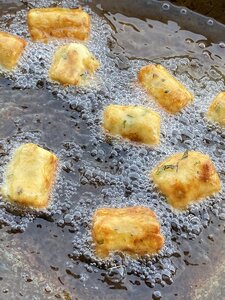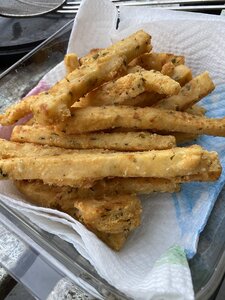 Spiedini
Schnitzel.